College & Career Readiness CONNECT
Did you know you can take college classes while earning your high school credential?
Let CCR CONNECT help you get your high school credentials and work toward a career.
More than just a high school credential.
Learn more. Earn more!
Co-enrollment opportunities
Career-focused classes, a faster track to employment
Curriculum classes leading to a degree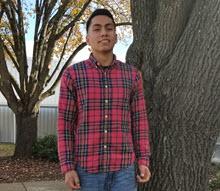 "The Co-enrollment program helped to prepare me for college. I made a choice to invest in myself. I never imagined I could get so much help from so many people. It means a lot."
- Osiel Gonzales, Adult High School Graduate
Watch Osiel's Success Story Video
---
Students must be in good standing in a College & Career Readiness class to take Career-focused classes. Placement in the classes is based on several factors, including academic placement in the College & Career Readiness program. These classes are ongoing and held at various times and locations throughout the semester.
Students must be in good standing in a College & Career Readiness class to enroll in curriculum pathways. Placement is based on several factors.

Note: Academic and financial assistance may be available.
If you have trouble with the links above, contact:
Ginny Kinder