Employee News
Simulation and Game Development Program Director Receives Old North State Award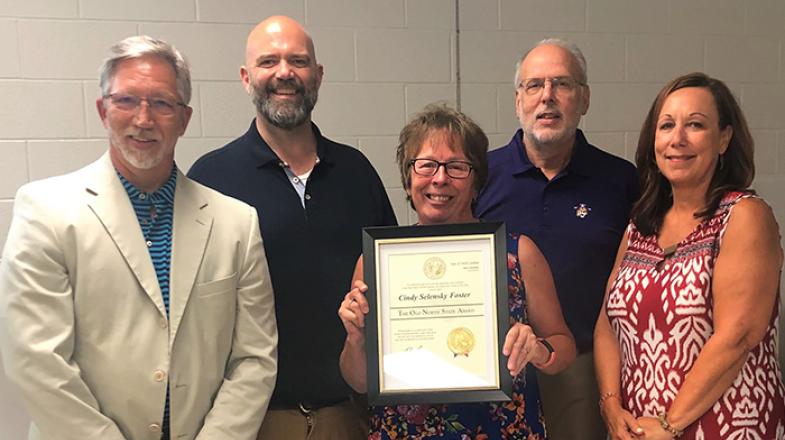 RALEIGH, N.C. (July 14, 2021) - Congratulations to Cindy Foster, Wake Tech's Program Director of Simulation & Game Development, on being awarded the Old North State Award.
Given by the governor's office, the award recognizes individuals with 20 or more years of service to the state of North Carolina. It was presented to Foster today at her retirement reception. She officially retires at the end of this month.
Throughout her career at Wake Tech, Foster has been immersed in the lives of students as an instructor, mentor and advisor.
She began her tenure at Wake Tech in 2000 teaching a variety of courses in Computer Science, Database Management and Simulation & Game Development. She is well known for her work in the Simulation & Game Development program, where she was named Dean in 2010. She was involved in the writing and activities associated with three National Science Foundation grants awarded to Wake Tech totaling nearly $1.3 million. One of these grants supported the curriculum development for 27 Simulation & Game Development classes along with online support for other curriculum classes.
Foster started the Wake Tech Game Development Club, which provides opportunities for students to build games as teams outside the classroom environment. Additionally, she established an open lab for Simulation & Game Development students to use course software outside the classroom. In 2013, she worked with Wake Tech and Wake County Public Schools to establish Simulation & Game Development curriculum at Vernon Malone College & Career Academy.
Foster is a member of the Triangle Game Initiative Board, which sponsors the annual East Coast Game Conference. This event hosts speakers from around the world and gives Wake Tech's Simulation & Game Development students the opportunity to network and showcase their work.
"Cindy's accomplishments as an educator are remarkable and demonstrate her commitment to her students, the community and Wake Tech," said Cindy Luttrell, the college's Dean of Information Technology. "Under Cindy's leadership, the College's Simulation and Game Development program was developed and has grown into a highly successful and nationally recognized program. Cindy has meticulously and simultaneously served as a faculty member, program director, fundraiser, and community leader. Although I have only had the opportunity to work with Cindy a short time, her passion for education, her program, and especially her students was quickly recognized. Cindy has certainly left her mark at Wake Tech and will be missed!"
During her tenure, Foster received an Excellence in Teaching Award from Wake Tech.