Partnerships
College Teams Up with Community Partners to Develop Service Leaders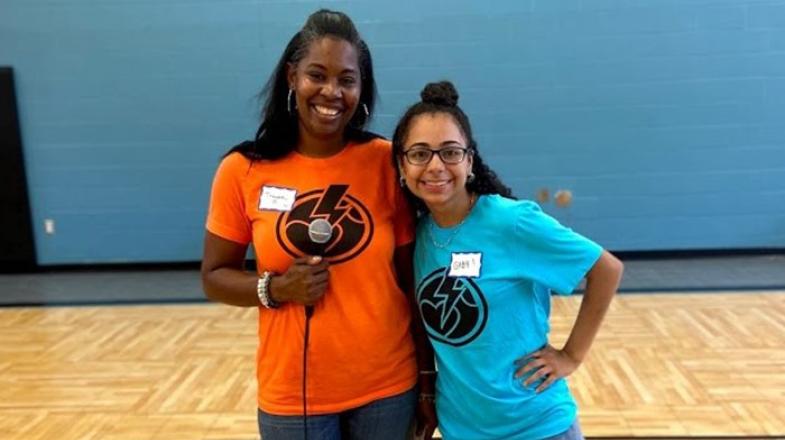 RALEIGH, NC (June 29, 2021) -- Two Wake Tech students are gaining vital leadership skills this summer thanks to an internship at Activate Good supported by First Horizon Bank.
Activate Good and Wake Tech have long worked together on recruiting students for service opportunities. Earlier this year First Horizon Foundation, a college partner, stepped up and offered to fund the internship, enabling Wake Tech students to earn while they serve.
"Our foundation partners with organizations that make an impact in the communities where our associates live and work," said Laura Bunn, First Horizon Triangle Market President. "This project aligns with our strategic efforts and is an opportunity for us to continue our partnership with Wake Tech while supporting the transformative work Activate Good does in our community."
Students Tracee Grimstead and Gaby Rosado were selected as the program's first volunteer campaign coordinators and they're overseeing Activate Good's Kids Helping Kids: Summer of Service program.
They'll work about 120 hours over the summer – 10 hours a week – coordinating 100+ children in third through ninth grades working on several projects, including a supply drive for "No Woman, No Girl," which supports women and girls experiencing homelessness or crisis, assembling snack packs for kids served by the Boys and Girls Clubs of Wake County, and packing school supply bags for Wake Up and Read.
Through the internship, Grimstead and Rosado are learning how to lead, inspire, and manage student volunteers, in addition to planning, logistics, communication and marketing skills.
Rosado is an associate in arts degree student and plans to transfer to UNC Chapel Hill next year. She hopes to pursue a career in business or non-profit management.
"I love to help out and create change, and I'm really enjoying this internship," she said. "I'm very enthusiastic about helping my community, and this program is all about engaging kids to help through service. I love to connect with people, and I think that strength helps me in helping my community to become stronger and make the world a better place."
Grimstead is pursuing her associate degree in human services technology. A mother of four, she hopes to become a therapist or counselor and says the internship is helping her develop vital skills like community outreach and empowerment that she'll use in the workplace.
"Our family is big on helping others and doing our part so that was what attracted me to this opportunity," Grimstead said. "Kids are definitely my passion. This program allows them to develop entrepreneurship and leadership skills, and I'm super excited to be a part of it and see their creativity and ideas as they plan their drives."
"At Activate Good, we believe we all have a responsibility to work towards a better world," said Amber Smith, Executive Director at Activate Good. "That's why Activate Good improves our community through people-powered projects for good. When we interviewed Tracee and Gaby for this opportunity, we immediately saw their passion for service and knew they would be excellent leaders for the Kids Helping Kids program."
"We love partnering with other non-profits to drive positive change in our community," said Matt Smith, Vice President of Development at Wake Tech. "Activate Good is an amazing organization and together, with the support of First Horizon, we are building student leadership skills while delivering service to those in need. This is a win-win!"
The internship program will select two more Wake Tech students to serve in similar roles this fall. Interested students should contact the Office of Volunteerism and Leadership at [email protected] for details on how to apply by July 9.
Rosado encouraged other Wake Tech students to pursue the fall internship. "This internship allows you to learn who you are, practice your skills and grow from it as a person," she said. "Just go for it!"