Partnerships
New University Transfer Opportunities for Automotive and Business Students
Bachelor's Degrees Will Prepare Students for Management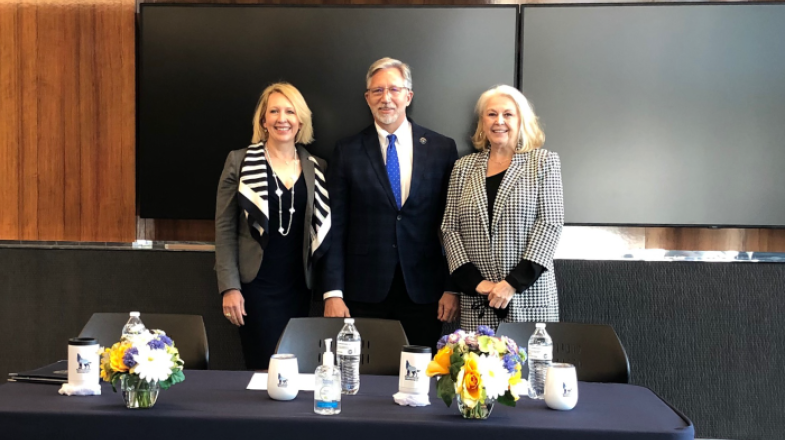 RALEIGH, N.C. (March 29, 2021) – A new university transfer agreement will offer Wake Tech automotive students new options to prepare for careers in management. The college signed several articulation agreements today with Northwood University in Midland, Michigan. Northwood is nationally recognized in the automotive industry for both its undergraduate automotive studies and graduate-level automotive management programs.
Under the agreement, students who complete an associate degree in Automotive Systems Technology at Wake Tech can now transfer seamlessly to Northwood to pursue a Bachelor of Arts degree in Automotive Marketing and Management or a Bachelor of Business Administration in Aftermarket Management. The agreements were signed in the lobby of the soon-to-be completed Hendrick Center for Automotive Excellence at the Scott Northern Wake Campus.
"We're making a major splash in the automotive arena thanks to the support of our county and the automotive industry," said Wake Tech President Dr. Scott Ralls. "And now, to be connected to a university that's so well-known and respected in that sector as Northwood is an incredibly important achievement – one that will offer students the opportunity to ladder beyond the degrees we offer here.
The partnership also allows Wake Tech business administration graduates to pursue the Bachelor of Business Administration in Aftermarket Management, as well as Bachelor of Business Administration degrees in Marketing or Management.
Students in automotive programs will complete their associate degree at Wake Tech and an additional two years of study at Northwood. Students in business administration will complete three years at Wake Tech and finish a final year at Northwood for the business administration degrees in marketing and management. The Northwood classes may take place online, or at the university's Michigan campus. Students may take classes at the two institutions concurrently.
"This agreement extends Northwood's reach into a growing region of the country," said Northwood President Kent McDonald. "We are excited to provide students from Wake Tech an opportunity to continue their education at one of the premier business schools in the country and to make their educational journey as smooth as possible."
The Northwood University partnership is the latest in a series of articulation agreements between Wake Tech and four-year institutions, both public and private. Thanks to these partnerships, every associate degree earned at Wake Tech can be transferred to a four-year degree program at a college or university. transfer.waketech.edu