Partnerships
Wake Tech and UNC Charlotte Announce New Academic Partnership
Plan Opens Door to Seamless Bachelor's Degree Completion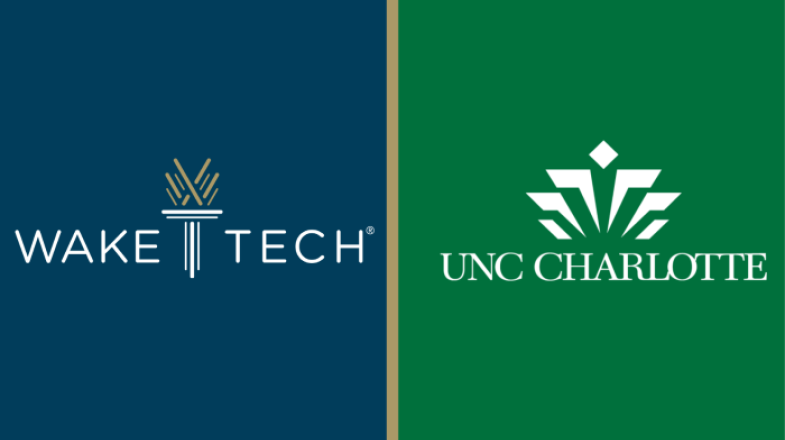 RALEIGH, N.C. (February 25, 2021) – A new partnership between Wake Tech and UNC Charlotte opens the door to a seamless bachelor's degree completion process. The 49erNext plan is a co-admission program that creates a seamless pathway for students who want to earn an associate degree at Wake Tech and complete a bachelor's degree at UNC Charlotte.
In addition to co-admission, the 49erNext program offers collaborative advising that helps students meet their academic, financial aid and career planning needs. While at Wake Tech, students have access to services at UNC Charlotte in addition to those they receive at the college. They are also able to participate in UNC Charlotte student events.
"Wake Tech students who are accepted into the 49erNext program will feel like they are already part of the UNC Charlotte community," said Anthony Almanzar, Wake Tech academic advisor. "They will meet with staff at both institutions to ensure they are on a path to success. The partnership will ensure that Wake Tech students have a smooth transition after they graduate and transfer to UNC Charlotte."
The 49erNext plan is only available to first time, full-time community college students. They are guaranteed admission at UNC Charlotte after completing an associate degree in Arts, Science, or Engineering with the required GPA of at least a 2.0 on a 4.0 scale. They are eligible to transfer into more than 75 undergraduate degree programs at UNC Charlotte.
Thirty Wake Tech students have been accepted into the program this semester.
Wake Tech joins four other community colleges participating in the 49erNext partnership, including Central Piedmont Community College, Gaston College, Mitchell Community College and Catawba Valley Community College.
The 49erNext program is the latest academic partnership between Wake Tech and UNC Charlotte. A separate agreement offers graduates of Wake Tech's Associate in Applied Science degrees in Computer Programming, Data Science and Programming an opportunity to pursue a Bachelor of Science in Data Science at UNC Charlotte - the only bachelor's degree of its kind offered in the state.
"UNC Charlotte is proud to partner with Wake Tech to provide accessible, affordable, quality higher education to meet North Carolina's evolving employment needs," said UNC Charlotte Chancellor Sharon L. Gaber. "The unique partnerships with Wake Tech are designed to produce a greater number of qualified, workforce ready graduates at a significant cost savings to them."
To learn more about 49erNext and other transfer opportunities for Wake Tech graduates, visit transfer.waketech.edu.