Alumni
She Said "Yes" at Wake Tech!
Couple Gets Engaged in Classroom Where They Met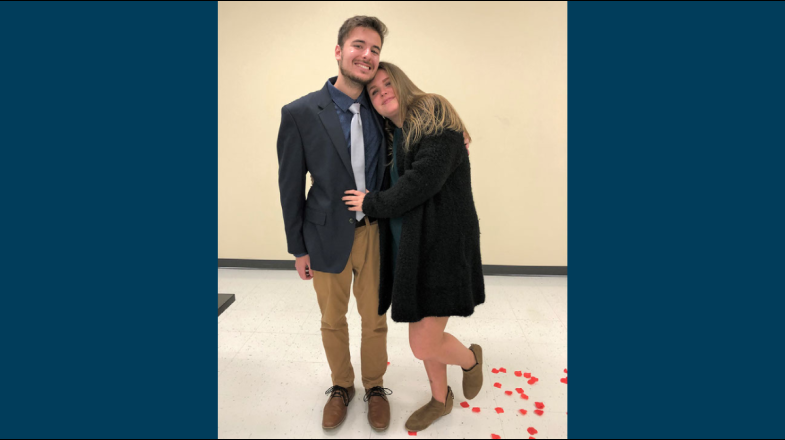 RALEIGH, N.C. (December 22, 2020) – In the spring of 2017, the stars aligned for two students at Wake Tech: Jacob Keller from Wake Forest and Meredith Roach from Knightdale met in an English class at the college's Scott Northern Wake Campus. Four years later, Jacob decided to "pop the question" in that same classroom!
"With the pandemic going on, there weren't a lot of other places we could go," Jacob said. "I talked with friends and family and thought this would be the perfect place to propose." Jacob contacted Wake Tech staff members to secure the classroom and arranged to decorate it before the big moment.
"I'm so excited about our future together," said Jacob. "and I can't wait to spend the rest of my life with this amazing woman!"
"I feel so blessed and grateful," said Meredith.
Jacob and Meredith became friends while working on a group project in Professor Elena Fleggas's English class. "That is so sweet that they met that way," said Fleggas.
After graduating with Associate in Arts degrees, both transferred to state universities. Jacob was off to NC State and Meredith to UNC Wilmington, but they kept in touch. They started dating when Meredith came home for spring break, and the rest, as they say, is history.
"This made my year!" said Fleggas. "Best wishes to the happy couple!"
Meredith earned a bachelor's degree in elementary education and is now teaching 2nd grade. Jacob earned a bachelor's degree in accounting and is in grad school to become a CPA.
The couple isn't wasting any time. Their wedding is planned for next October, when Meredith's year-round school will be "tracked out."