Student Success
Virtual Career Fair Helps Students Find Employment During Pandemic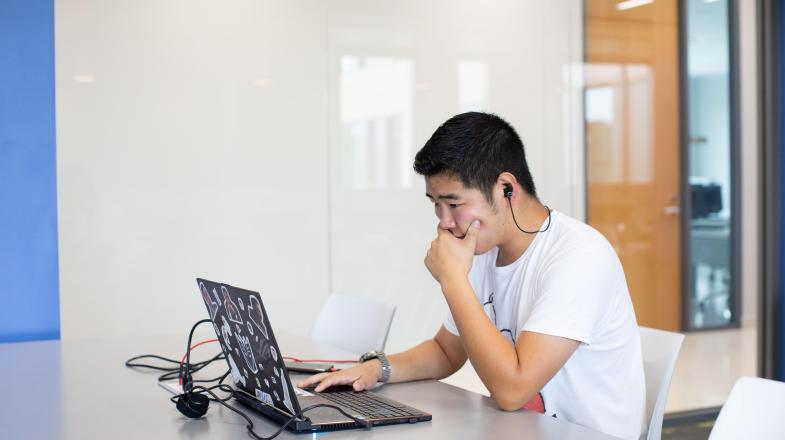 RALEIGH, N.C. (July 1, 2020) – Some 100 Wake Tech students got the chance to land jobs and internships with about 25 local employers during the college's recent Virtual Career Fair.
Hosted by Career and Employment Resources, the event was tailored for business and information technology students and alumni because the on-campus career fair was canceled in March due to the pandemic.
Ian Gibbons, the college's manager of employment resources, said he was pleased with the event's results.
"The event was a tremendous success," he said. "Employer feedback has been extremely positive, with multiple organizations claiming that they are scheduling follow-up interviews. Students have expressed gratitude for conducting this event and are excited about future career opportunities."
Gibbons said virtual job fairs are new for students, but he said they give them the chance to practice interviewing in an online format.
"We know that a virtual career fair isn't the ideal situation," he said. "Employers, students, and alumni need to meet face-to-face. That's what employers want so this is really a means to an end and the best we can do during these current circumstances."
"The students and alumni, they've put a lot of blood, sweat and tears into their education and they deserved an event that helps them advance their careers," Gibbons added. "And on the employer side, if they've got an employment need and Wake Tech can provide that employer we wanted to make that opportunity happen as well."
Students and employers registered in advance, and the event used chat rooms for participating employers and students to exchange information about job openings, skills and experience. In attendance were global corporations like Credit Suisse and Deutsche Bank, government organizations such as the North Carolina Department of Public Safety and the State of North Carolina, small Software Development firms Instancy and Klarrio, and national corporate chains such as Lowe's Home Improvement.
Lelah Jones-Olendar, who is studying accounting and finance at Wake Tech, said the virtual event was different from an in-person career fair, but she's thrilled it led her to a paid bookkeeping internship.
"I spoke to several employers at the virtual career fair, and it was very interesting," she said. "I hadn't participated in anything like this before, and I was a little nervous, but I was encouraged to do it and I'm glad I did. These are new times and we are all having to adapt."
Jones-Olendar is re-entering the workforce after staying home for years to raise her children. Recently divorced, she decided to enroll at Wake Tech to pursue a new career. Caring for her family during the pandemic has been tough and the internship will help her better provide, she said.
"In addition to the paid internship, I was also given information by another company about their program for adults returning to the workforce after a long break," Jones-Olendar said. "I'm excited to see where that might go for next year. Even if you aren't ready for part-time or full-time employment, I suggest all students participate in the career fairs - not just for practice, but for internship opportunities as well."
Gibbons typically coordinates five different career fairs each year for the college. With the pandemic still lingering, he said he is planning more virtual fairs for the fall semester.
In addition to job fairs, Career and Employment Resources also helps students with career exploration, job-search strategies, resume writing, and interviewing. Students can schedule a virtual appointment here.