Partnerships
Coastal Credit Union Donates Laptops for Wake Tech Students
Generous Donation Will Help Students with Online Learning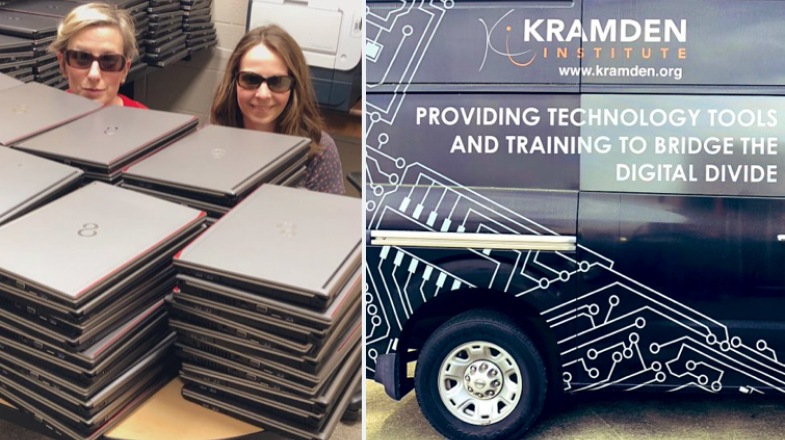 RALEIGH, N.C. (April 3, 2020) – Wake Tech has received a generous gift of laptops to help students continue to pursue their educational goals during the coronavirus pandemic.
Coastal Credit Union donated 150 laptops to the Wake Tech Foundation to help students transitioning to fully online classes. The college is working to identify students who need a reliable computer and is shipping a laptop to their home. All are expected to be in the hands of who students who need them by the end of the week.
The laptop donation happened quickly after Creighton Blackwell, vice president of corporate affairs and community engagement with Coastal Credit Union and a member of the Wake Tech Foundation Board of Directors, called Wake Tech to ask what the college needed to help students.
"Coastal has a proud history of supporting the Wake Tech Foundation because the college is a critical part of what makes our community great," said Joe Mecca, Coastal's spokesperson. "Another thing that makes our community great is different organizations coming together to meet challenges like this. Our Community Engagement team was able to provide funding for the laptops, and identified the opportunity to bring in another one of our community partners, Kramden Institute, to maximize the impact."
Local nonprofit, Kramden Institute, which partners with schools and organizations across the state to bridge the digital divide by providing technology tools and training, prepared the laptops to make sure they had Windows 10 and other necessary programs and tools.
Scarlet Edwards, associate vice president for military, veteran and special programs, helped identify students in need and organized the laptop distribution. She says the laptops are a great asset for students who don't have a reliable computer at home and realize that their phone or a friend's computer won't be enough to finish out their assignments for the semester.
"During this time of many unknowns, these laptops will provide our students with reliable access to technology to complete their course work," Edwards said. "They are making it possible for students to stay with us and continue their studies."
More than 21,000 students returned from spring break March 30 and will complete their spring courses in an online format. Students who have questions about the transition to online can call Wake Tech's Answer Center at 919-866-5000, or send an email to [email protected] A staff member will respond as soon as possible.
The Wake Tech Foundation cultivates and manages a variety of resources critical to student success – from gifts of technology and equipment to financial support for scholarships. Most recently, the Foundation established the Rally Fund, designed to provide wrap-around financial support for students facing an unforeseen emergency that could impact their ability to continue their education. Learn more about the Rally Fund and other opportunities to support Wake Tech students at foundation.waketech.edu.
---