Events
New Law Enforcement Officers Graduate
26 Officers Ready to Serve the Community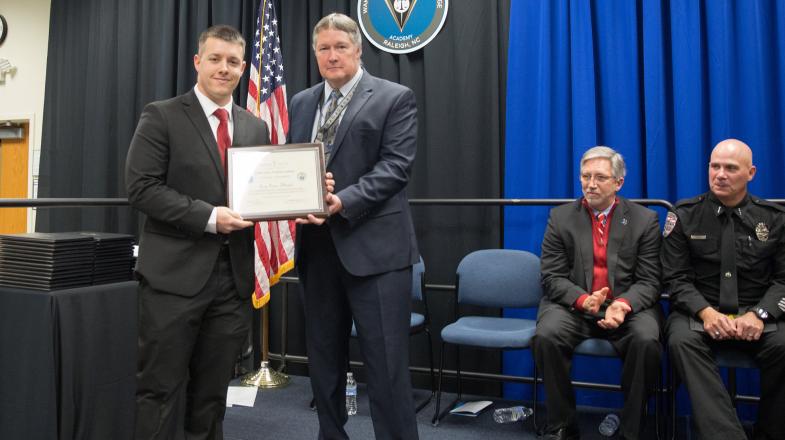 RALEIGH, N.C. (December 11, 2019) - Wake Tech's Basic Law Enforcement Training (BLET) Academy held its graduation ceremony today at the college's Public Safety Education Campus. Twenty-six new officers graduated.
Wake Tech's BLET Academy includes 768 hours of training over a six-month period. Dozens of instructors put cadets through their paces, with a variety of exams that test physical fitness and mental aptitude.
Chief Martin Brock of the NC General Assembly Police was the keynote speaker for the ceremony. Brock, who also serves as a BLET instructor, offered inspiration for the graduates: "This is not a thankless job – people appreciate the good you do. You may not realize your good deed at the time, but have faith that you are a positive influence in people's lives."
Class sergeant Lance Wheeler recounted memorable moments shared with classmates: "We learned 36 new subjects, took 39 exams, drove at more than 100 miles per hour, and shot thousands of rounds." Wheeler also encouraged graduates to keep pushing forward and striving for personal excellence. "You might want to take a break now that class is over," he said, adding, "don't!"
Graduates received awards in the following categories:
Award of Excellence for Highest Academic Average: Tyler Hill

Award of Excellence for Highest Firearms Average "Top Gun Award": Stephen Hudson

Johnny Blackmon Physical Fitness Award: Wesley Newth

Bob Barker Company Endowed Scholarship of $350: Kimberly Farmer

Monique Mitchell Memorial Scholarship Award: Lance Wheeler
This award was established in memory of the daughter of former Wake Tech EVP Gerald Mitchell. The scholarship assists BLET cadets age 25 or older who are in good academic standing and who demonstrate discipline, integrity, and leadership.
Wake Tech President Dr. Scott Ralls also addressed the new officers. "In the movies," he said, "heroes wear capes – but we know that in real life, heroes wear badges. Today we celebrate you and thank you for your vital service."
Wake Tech was the first community college in North Carolina – and second in the nation – to earn CALEA® accreditation for its Public Safety Training Academy. CALEA®, the Commission on Accreditation for Law Enforcement Agencies, recognizes best practices and professional excellence in policy and practice. To learn more about Wake Tech's BLET program, visit blet.waketech.edu.