Events
Fostering Bright Futures Celebration Provides Fellowship and Gifts
Program Helps Former Foster Youth Create Holiday Traditions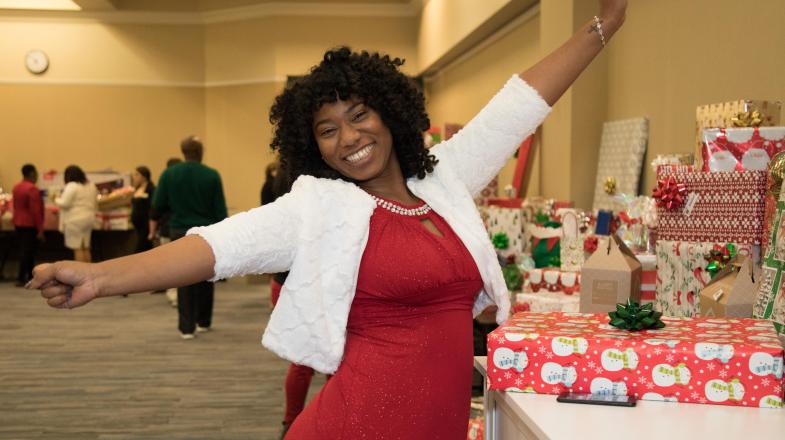 RALEIGH, N.C. (December 5, 2019) - Christmas arrived early for students in Wake Tech's Fostering Bright Futures program. These students, formerly in foster care, are now on their own and on their way to earning degrees at Wake Tech. Today they enjoyed a holiday party with all the trimmings – food, fun, gifts, and even a surprise visit from the Grinch!
Nearly 40 students gathered with mentors, volunteers, and community sponsors to celebrate their accomplishments. Each student had made a wish list and received personalized gifts, purchased with program funds from generous donors.
Ten students received scholarships from community partners:
Brianna Adams, $2,000
Jaivon Kirkland, $1,000
Damonte Bennett, $1,000
Kimberleigh Thoms, $1,000
Priscillia Bilolo, $1,000
Selina Garcia, $750
Sam Edwards, $750
Havily Nwakuche, $500
Janelle Nwakuche, $500
Trent Taylor, $500
Michelle Blackmon, Fostering Bright Futures Program Coordinator, and Doris Huebner, Vice-Chair of the Wake Tech Board of Trustees, organized the event with help from volunteers. They shopped for gifts and even held a wrapping party.
"In this season of giving, you are truly gifts to this college," said Wake Tech President Dr. Scott Ralls. "You contribute so much to Wake Tech by inspiring us with your hard work and determination, and by showing us what real success is all about."
Fostering Bright Futures is a public-private partnership that provides tutoring, mentoring, and financial support to help former foster youth pursue higher education. Statistically, less than three percent of young adults aging out of foster care attend college and graduate. The program has helped many of them beat those odds and lead happier, more productive lives.
Fostering Bright Futures started in 2008 to help former foster care youth earn degrees from Wake Tech. Currently, there are 40 students in the program and 30 on the waiting list. To date, 15 students have earned associate degrees: 9 of those have transferred to universities, and 6 are working in their field of study (dental assisting, plumbing, banking, early childhood education, advertising and graphics, and medical assisting). Four students are on track to graduate in May 2020.