Employee News
Math Professor Recognized for Innovations in Online Learning
Meghan McIntyre Published by National Organization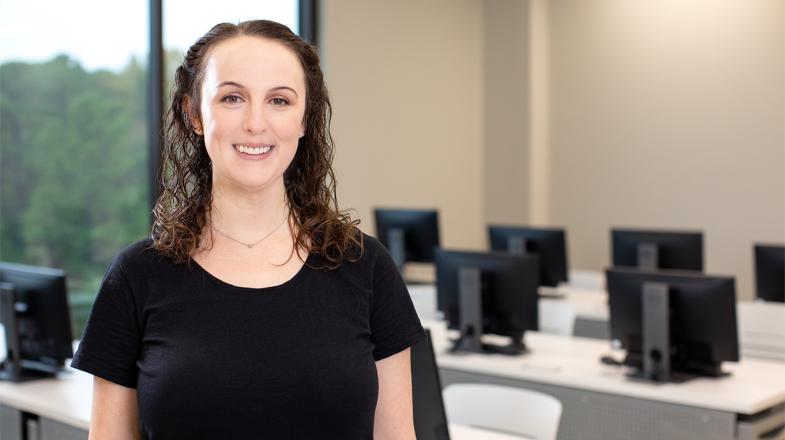 RALEIGH, N.C. (October 4, 2019) - Meghan McIntyre, a Wake Tech mathematics professor, is in the national spotlight for her efforts to improve online learning. Her paper, "Online Collaboration Strategies That Work" – which describes how to create community among students in online classes – has been published by the National Institute for Staff and Organizational Development (NISOD). NISOD promotes excellence in teaching, learning, and leadership at community and technical colleges.
McIntyre says that teaching online was challenging at first, and she discovered that some students didn't see internet classes as being quite as "real" as traditional ones. She started brainstorming how to improve the online learning experience: "I found that the more connections I had with students, and the more they had with each other, the faster the digital walls came down."
Through trial and error, McIntyre developed strategies that improved the flow of her classes and increased the connectivity among her students – discussion boards, online forums for questions, and more. The results were so dramatic, she wanted to share them with peers: "I learned through Wake Tech's Great Teachers Seminar that teachers learn best from each other!"
This is just the latest in a series of recognitions for Wake Tech for advances in online education. Project COMPASS, the result of a $2.7 million U.S. Department of Education First in the World grant, demonstrated how technology can be leveraged to increase student engagement and success in online courses. The Project COMPASS team has been recognized both nationally and internationally. Most recently it was named Innovator of the Year by the North Carolina Community College Association of Distance Learning.
Wake Tech currently serves nearly 18,000 online students – more than any other community college in North Carolina. The college offers nearly 100 online programs, including Associate in Arts and Associate in Science for college transfer, and career programs such as Business Administration, Criminal Justice, Early Childhood Education, and Mobile Applications Developer.
Wake Tech requires special certification for online faculty and an eLearning Introduction course for new online students, to make sure both are prepared for success in the online environment. Wake Tech was recognized as the #1 online community college in the nation in 2017 by Best Value Schools (BVS), a college search guide for students.