Academics
Wake Tech Names 2019 Scott Scholars
Two Students Receive College's Most Prestigious Honor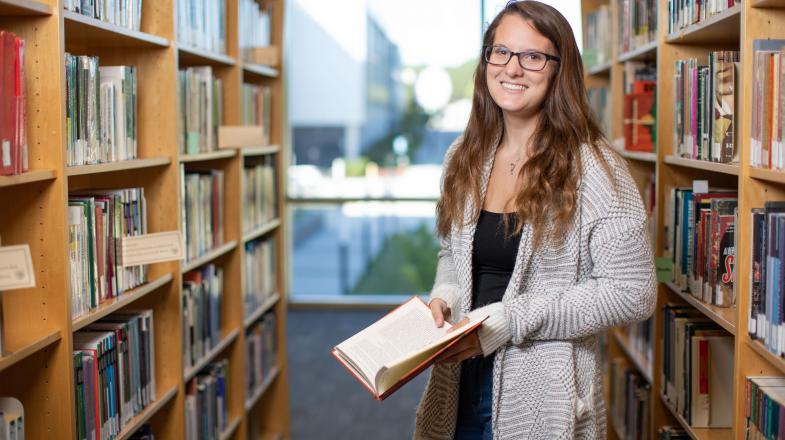 RALEIGH, N.C. (October 18, 2019) - Wake Tech Community College is pleased to announce the Scott Scholars for 2019, Mana Aoi and Jenna Rogers. These two deserving students will receive up to $3,500 for tuition, fees and books along with a laptop computer, a summer internship placement, a mentor from senior administration, and opportunities to participate in special events and projects. The Scott Scholarship, Wake Tech's most prestigious and sought-after honor, is merit-based and is designed to offer leadership development opportunities to outstanding students in associate degree programs at the college.
Nineteen-year-old Jenna Rogers is pursuing associate's degrees in Science and Engineering, and her goal is to transfer to NC State for a bachelor's degree in Biomedical Engineering. Rogers wants to focus on research to create new kinds of prosthetics. "All I've ever wanted to do is use my gift for math to help people." She works part time teaching children's swim lessons, and money is tight. She says being a Scott Scholar is a game changer. "This scholarship will allow me to finish my degrees and transfer without debt hanging over my head. It is helping me on the path to my dream job!"
Mana Aoi, an international student returning to college, has overcome serious challenges. In 2003, she was in a skiing accident that forced her to learn how to walk and talk again. "I never think anything is impossible," Aoi says. "I just keep going and try to do my best." Her positive attitude has served her well; she earned two PhD's before coming to the United States, and she's now pursuing an associate degree in Data Science and Programming Support Services at Wake Tech. She helps fellow students in the computer lab and also volunteers at WakeMed. She isn't currently working in order to focus on her full class load, and she worries about money all the time. "This scholarship will allow me to continue my studies and contribute to the community without worrying about how I will pay for classes."
"Our student population is diverse and multi-generational," says Wake Tech President Dr. Scott Ralls, and Mana and Jenna are models for how students can improve their lives at any age! They're committed to achieving their goals and very deserving of the rewards provided by the Scott Scholars program."
Scott Scholars is named in honor of Wake Tech's third president, Stephen C. Scott, who retired last year after 15 years at the helm of the state's largest community college. It was established in 2012 with a $25,000 endowment from Wake Tech alumni Mark and Rachel Selisker. The program's goal is to raise $1,000,000 to support four Scott Scholars each academic year.