Around WakeTech
Wake Tech Raises the Bar on Higher Educational Facilities
Scott Northern Wake Campus Building F Wins Sir Walter Raleigh Award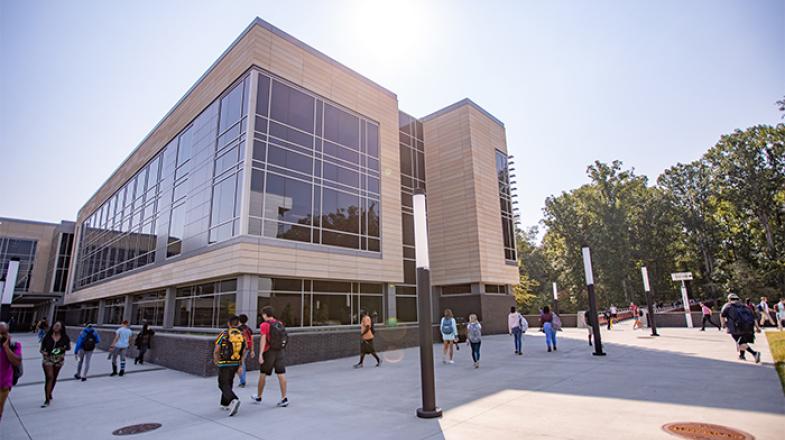 RALEIGH, N.C. (October 2, 2019) - Wake Tech is proud to be the recipient of a 2019 Sir Walter Raleigh Award for Community Appearance. The Raleigh Appearance Commission recognized Building F on the Scott Northern Wake Campus for elevating the level of design among higher education institutions in North Carolina.
Building F opened in 2015, and serves as the heart of the rapidly expanding campus. Geographically, the building links the campus together with pathways, bridges, and outdoor spaces. Programmatically, the facility provides much-needed spaces for study, student support, and social interaction.
Commission members said the design was considerate of the surrounding landscape and helped to create a beautiful campus. They also said the building "raises the bar" for community college building design. The designer was Clark Nexsen and the contractor was Skanska USA.
The focal point of Building F is the two-story Library and Learning Commons, which includes a variety of spaces to help students maximize their learning experience by catering to their individual needs: from lively group discussions to quiet, focused individual study. Building F also includes an Individualized Learning Center for tutoring, an e-Learning Testing Center, Disability Support Services, computer labs, classrooms, and offices.
The Northern Wake Campus is the first college or university campus in the nation to be completely LEED certified. Building F continues this tradition, having earned LEED Silver. The orientation of the building, detailing of the thermal envelope, and the use of shading devices on the south façade all contributed to reducing energy consumption by 23.4%. In addition, the design exceeded open space targets by 34%, and non-roof heat island targets by 13%. Additional investment improved the quality of the stormwater wet pond experience with greater diversity and quantity of aquatic and upland species.