Funding & Development
Rep. David Price Announces Major Grant for Simulation and Animation
NSF Grant Will Add Classes, Enhance Opportunities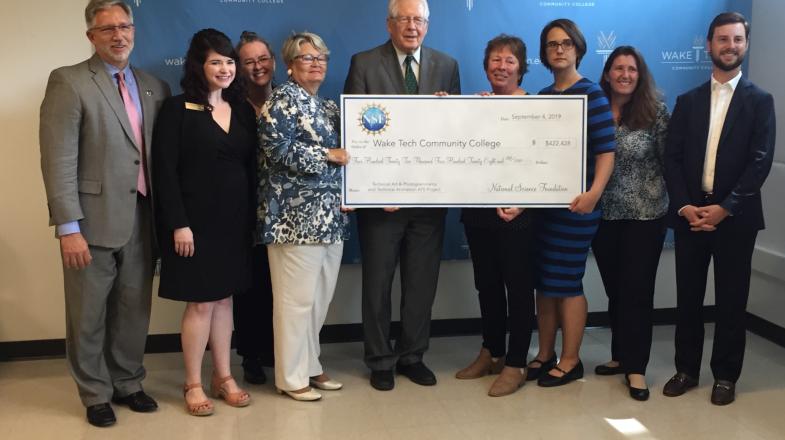 RALEIGH, N.C. (September 4, 2019) - Wake Tech is pleased to announce that the college has been awarded a National Science Foundation (NSF) grant of $422,428 to help meet industry need for skilled technicians in technical art, photogrammetry, and technical animation.
The project, through the NSF's Advanced Technological Education program, will add four new courses in 3D Data Capture, Technical Art, Photogrammetry, and Technical Animation and two new certificate programs. Wake Tech will become the first community college in the U.S. to offer a class in technical art, which is usually included in graduate-level programs. Wake Tech will also become one of a select group of community colleges to have a 3D motion capture studio.
"This grant is a game-changer!" said Simulation and Game Development Department Head Cindy Foster. "It will help make sure that students are up-to-date with cutting edge training that will prepare them for new jobs on the horizon."
U.S. Representative David Price, along with representatives from the offices of Senators Thom Tillis and Richard Burr came for the announcement, and to learn more about how the program is growing to meet the needs of the 40+ game companies in the Triangle. About 375 students are currently enrolled in the program, and graduates are working at major game companies in the Triangle such as Epic Games, RTI Ubisoft, Red Storm Entertainment, Imangi, Limited Run Games and others.
"This very sophisticated curriculum is all about filling the jobs that are out there with our graduates," said Rep. Price. "This funding helps the country's best community colleges get to the next level. You're demonstrating what's possible!"
Rep. Price pointed out that Wake Tech is among the nation's community colleges that have received an impressive number of grants from the National Science Foundation. Since 1978, Wake Tech has received 14 NSF grants, and has been a partner or subrecipient of numerous others.
"I'd like to thank Congressman Price and the National Science Foundation for opening the doors of opportunity for our students," said Wake Tech President Dr. Scott Ralls. "These opportunities extend beyond the world of entertainment games, into fields such as architecture, healthcare and law enforcement. In fact, it was a simulator that enabled me to operate a piece of heavy equipment, and live to tell about it!"
In addition to new courses, the grant will expand industry externships for faculty to update their skills, and internships for students to gain real world experience and hands-on training. The grant will also increase diversity through targeted outreach aimed at recruiting higher percentages of under-represented population including women, minorities, and veterans.
For more information on Wake Tech's Simulation and Game Development program, visit http://sgd.waketech.edu.