Academics
Faculty Earn "Professor" Status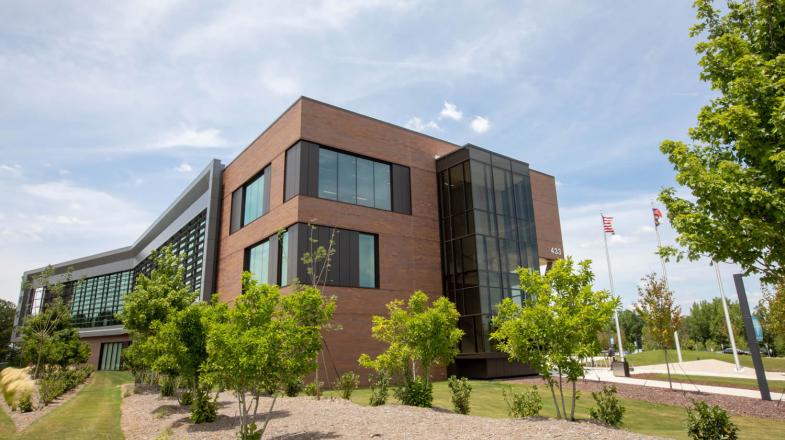 RALEIGH, N.C. (July 23, 2019) – Ninety Wake Tech faculty members earned promotions as part of the college's faculty rank system this year. The college established the faculty rank system in 2014 as a way to reward excellence – and to attract and retain the most effective educators.
Among those achieving a new rank, 48 were named assistant professor, 27 were named associate professor, 13 were named professor, and two were named senior professor. Each will receive a special ceremonial cord to be worn with formal regalia at graduations and other academic events.
Promotion is determined through a rigorous set of criteria, including advanced academic credentials, innovative teaching strategies, leadership, and community service, along with faculty members' Applied Benchmarking initiatives. Applied Benchmarking is Wake Tech's continuous improvement process in which employees are required to find best practices at other institutions and apply those practices at Wake Tech.
In addition to the above criteria, rank requires tenure at the college. Assistant professors must have completed three years of full-time teaching at Wake Tech, while senior professors certify that they've taught at least 12 years at Wake Tech.
Congratulations to:
Senior Professor
| | |
| --- | --- |
| Geeta Shah | Business Administration |
| Denise Wetli | Mathematics and Physics |
Professor
| | |
| --- | --- |
| Elizabeth Castellow | Foreign Languages and Fine Arts |
| Jimmie Chilton | Mathematics and Physics |
| Lori Dees | English |
| Geoffrey Harris | Humanities |
| Mandy Kelly | English |
| Andrea Bachi | Interior Design |
| Seth McElvaney | Mathematics and Physics |
| Meghan McIntrye | Mathematics and Physics |
| Analemma Mckee-Schwenke | Mathematics and Physics |
| Wanda McNeil Johnson | Imaging |
| Joy Minster | Mathematics and Physics |
| Mary Rowland | Communication and Theatre |
| Patrick Williams | English |
Associate Professor
| | |
| --- | --- |
| Phyllis Allen | Academic Foundations |
| Amin Asfari | Criminal Justice |
| Patricia Averre | Nursing |
| Tom Aydlett | Mathematics and Physics |
| Ethel Campbell | Dental Hygiene |
| Carrie Carreño-Zingaro | Individualized Learning Center |
| Nicolas D'Agata | Web Technologies, Advertising, and Graphic Design |
| Tyler Dockery | Web Technologies, Advertising, and Graphic Design |
| Shahrzad Emadi | Individualized Learning Center |
| Julie Greenberg | Foreign Languages and Fine Arts |
| Deborah Lane | Nursing |
| Brandie Littlefield | Life Sciences |
| Delia Lofton | Imaging |
| Deborah Mills | Mathematics and Physics |
| Jeff Myers | Business Administration |
| Ashley Parrott | Academic Foundations |
| Dennis Porch | Communication and Theatre |
| Lorraine Powers | Business Administration |
| Thomas Rankin | Business Administration |
| Thomas Riley | Humanities |
| Candice Roberts | Life Sciences |
| Traci Rowe | Communication and Theatre |
| Mary Staton | Life Sciences |
| Ken Turner | Simulation and Game Development |
| Gina Valentine | Nursing |
| Elizabeth Welch | English |
| Malorie Winters | Mathematics and Physics |
Assistant Professor
| | |
| --- | --- |
| Benjamin Allen | Humanities |
| Stacey Auman | Mathematics and Physics |
| Alain Ayangma | Mathematics and Physics |
| Stacy Barnes | First Year Academy |
| Briana Blount | Mathematics and Physics |
| Sarah Boone | English |
| Charlotte Boyd | Cosmetology |
| Ian Brown | Physical Sciences |
| Brandon Burford | English |
| Suya Campos Rosa | Hospitality Management |
| Mary Christie | Life Sciences |
| Bethany Corley | Mathematics and Physics |
| George Cox | Simulation and Game Development |
| Justin Eatmon | English |
| Aisha Eskandari | Simulation and Game Development |
| Elena Fleggas | English |
| Tiffany Grovenstein | Social Sciences |
| Joseph Haigler | Humanities |
| Laura (Allison) Harrell | English |
| Monique Harris | English |
| April Harrison | Mathematics and Physics |
| Dawn Harvel | Human Services Technologies |
| Patricia Hathaway | Network and Computer Technologies |
| Julia Hayes | Network and Computer Technologies |
| Sarah Horstman | Mathematics and Physics |
| Laveshia Johnson | Nursing |
| Brenda Jones | Social Sciences |
| Robert Knox | Physical Sciences |
| Jason Lapeze | English |
| Suzanne Leone | Civil Engineering Technologies |
| Lisa Martin | English |
| Kerri Mercer | Communication and Theatre |
| Mindy Miller-Kittrell | Life Sciences |
| Melanie Morgan | English |
| Carla Osborne | Web Technologies, Advertising, and Graphic Design |
| MaryGrace Paden | English |
| Stephanie Peace | English |
| Abigail Reiter | Social Sciences |
| Bryan Rufener | Communication and Theatre |
| Gustavo Sa | Mathematics and Physics |
| Neal Stidham | English |
| Melessia Todd | Life Sciences |
| Michael Traylor | Mathematics and Physics |
| Patricia Van Brunt | Mathematics and Physics |
| Kelly Vetter | Mathematics and Physics |
| Ashley Wagner | Imaging |
| Barbara Warner | Network and Computer Technologies |
| Erin Wedehase | English |