Employee News
Engineering Educator Receives North Carolina's Highest Civilian Honor
Susan Meardon Inducted into the Order of the Long Leaf Pine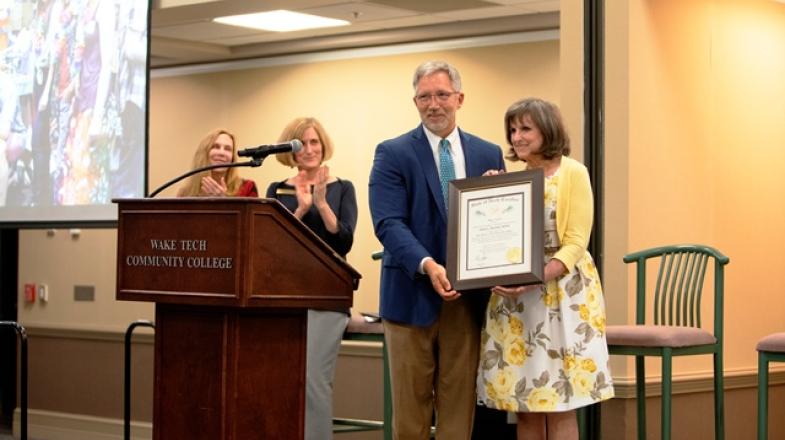 RALEIGH, N.C. (July 22, 2019) - Congratulations to Susan Meardon! The Cary resident was inducted into the Order of the Long Leaf Pine today. It's the state's highest civilian honor. Meardon taught and held leadership roles at Wake Tech for 34 years before retiring earlier this month. A former engineering department head, she is credited with developing Wake Tech's Associate in Engineering program, and pioneering an articulation agreement that creates a seamless transfer pathway to UNC System baccalaureate engineering programs.
"There are very few states in the country, if any, where community college engineering students have a seamless University Transfer pathway like ours," said Wake Tech President Dr. Scott Ralls. "This achievement became a reality due to Susan's tireless efforts, and we're extremely grateful."
During her tenure, Meardon developed a telecommunications curriculum and created several courses, including fiber optics. She developed advising forms that have since been replicated by many community colleges across the state and the country. Under her leadership, Wake Tech's engineering enrollment grew from 200 students to more than 1,000. For several years, Meardon worked to bring together leaders from both community college and university engineering programs, which culminated in the 2015 articulation agreement between the NC Community College System and the UNC System.
"Susan was a champion for community college engineering students, and was instrumental in decades of collaborations with university and industry partners that built respect and recognition for our students," said Dean Sharon Welker. "For students, she was a coach, a cheerleader, a counselor, an advisor, and their biggest fan."
"All of you contributed to my success," said Meardon, as she thanked friends and colleagues. "We did it for our students, we did it for Wake Tech, and we did it for the state of North Carolina."
Meardon earned a bachelor's and master's degree in Electrical Engineering from the University of Central Florida. She started her career as the highest-ranking female civilian engineer at Warner Robbins Air Force Base in Georgia. She started Wake Tech's summer camps for teenagers, and spearheaded the highly anticipated end-of-semester Rube Goldberg competition for degree students.

Watch on YouTube: Susan Meardon Receives the Order of the Long Leaf Pine.