Events
Community Partners Recognized for Excellence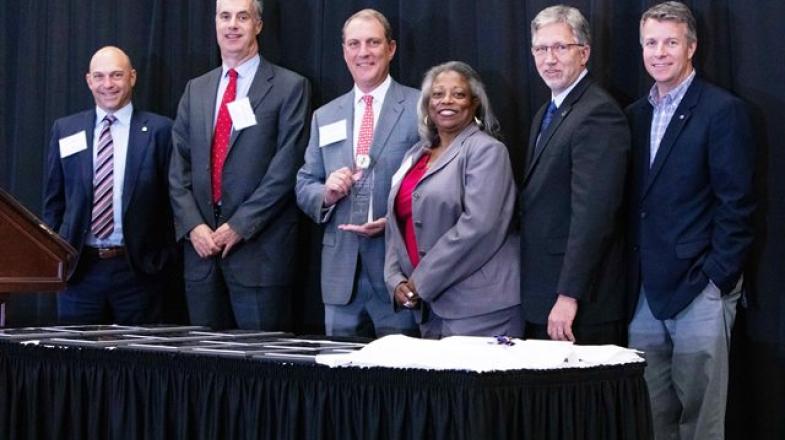 RALEIGH, N.C. (April 24, 2019) - Wake Technical Community College President Dr. Scott Ralls has recognized four community partners for their outstanding contributions to the mission and vision of Wake Tech.
At the college's annual Excellence Awards banquet on April 24, the SunTrust Foundation was named Corporate Benefactor of the Year. SunTrust has focused its gifts to Wake Tech on financial literacy. The SunTrust Foundation has helped Wake Tech build a suite of financial education tools and workshops to help students better manage financial aid, budget for the unexpected, and plan for the future. SunTrust has gifted the college nearly $400,000 since it partnered with Wake Tech in 1993. SunTrust has invested in professional development, equipment, and the Center for Strategic Futures.
The Individual Spirit of Giving Award was given to Dr. Carl Price, the second President of James Sprunt Community College, and a former Executive Vice President for Wake Tech. Dr. Price and his family are committed to helping students transition from high school equivalency and adult high school programs to curriculum coursework. In 1992, they established the first endowed scholarship at Wake Tech - in memory of their daughter, Carla. The Carla G. Price Memorial Scholarship is a tribute to Carla's many accomplishments despite her disabilities. Through Dr. Price's efforts, more than 75 different donors have given to increase the endowment's value to nearly $50,000. This growth has enabled more than 40 high school equivalency graduates to pursue degrees at Wake Tech.
The Volunteer of the Year Award was given to Dr. Howard Ellis for his tireless dedication to students. Ellis has given an average of 24 hours a week for the last four years to tutor students in math, reading, science, and social studies. He's famous for offering group and one-on-one tutoring both before and after class and during college breaks and vacations. Dr. Ellis will receive his fourth consecutive US Presidential Volunteer Service Award this year.
Heather Hockenberry was presented with the Honorary Alumnus Award, a special designation reserved for those who truly embody the spirit of the institution. Hockenberry graduated from Wake Tech's Radiography program in 2013 and is now a Diagnostic Technologist for UNC Rex Healthcare. She has been an active contributor to the growth and success of the college's Radiography program – serving on an Advisory Committee, Communities of Interest Committee and the Assessment Committee. Hockenberry has provided applied industry recommendations to help students graduate with the most relevant skills possible. She also works hard as the student liaison for radiography students in clinical rotations at UNC Rex Healthcare. She makes sure students have a great learning experience while receiving top-notch training.
The Excellence Awards are sponsored each year by the Wake Tech Foundation.