College Leadership
Wake Tech Welcomes New Trustee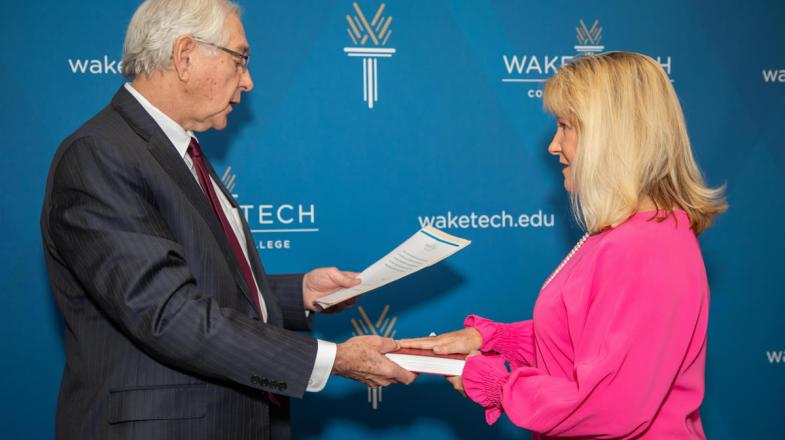 RALEIGH, N.C. (April 16, 2019) - Wake Tech Community College is pleased to welcome a leader in the Human Resources industry to the Board of Trustees. Jeanene Martin, appointed by the Wake County Board of Education, was sworn in today.
Martin is Senior Vice President of Human Resources and Chief People Officer for WakeMed Health and Hospitals. She has an impressive list of responsibilities, including: Compensation, Benefits, Talent Acquisition, Non-clinical Alternative Staffing, Employee Relations, Diversity & Inclusion, Volunteer Services (over 1200 volunteers), Retail Services, Guest Services, Organizational & Staff Development, Workforce Development, Nursing Education, Occupational Health & Safety, and the Employee Assistance Program.
Martin received a bachelor's degree in Psychology – Human Resources and a master's degree in Education: Guidance and Personnel Services from NC State University. She also earned a master's degree in Public Health: Health Policy and Administration from UNC Chapel Hill.
Martin serves on the Board of Directors for Interact and is a member of the NC Business Committee for Education. She has received several recognitions, including the WakeMed Circle of Excellence Award and the Triangle Women in Business award.
"I am humbled and honored to be joining such an impressive Board of Trustees, said Martin. "I have had the privilege of working with the Wake Tech Health Sciences Division for many years; the students are second to none and bring tremendous talent to organizations in our community. I look forward to learning more and supporting all the great work of the college."
Wake Tech is served by 12 trustees, all of whom are appointed: four by the governor, four by the Wake County Board of Commissioners, and four by the Wake County Board of Education. An ex-officio student representative (usually the president of Wake Tech's Student Government Association) also serves on the board. Trustees establish policy for Wake Tech, approve the annual budget, and serve as advocates for the college and its services.
Jeanene Martin replaces John Tiberi.