Events
Students and Faculty Bring Home Gold, Silver, and Bronze!
College Hosts Premiere Culinary Competition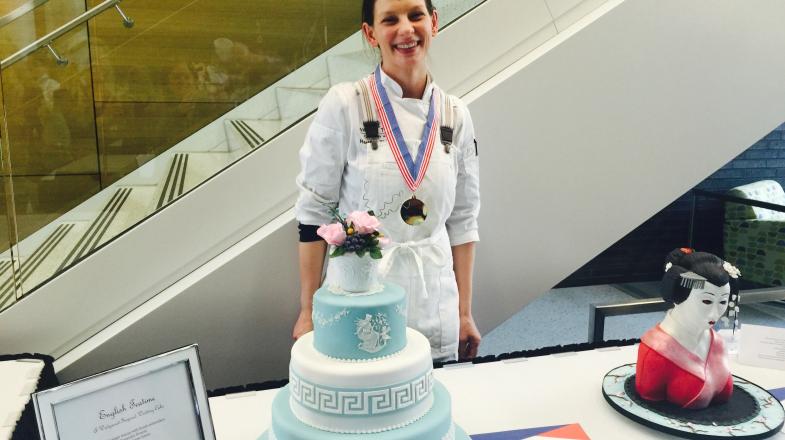 RALEIGH, N.C. (February 26, 2019) - Students and faculty in Wake Tech's culinary programs are celebrating success today after winning nearly two dozen medals at the NC American Culinary Federation (ACF) Competition at the Scott Northern Wake Campus! The competition included several categories, including buffet platters, cakes, and special showpieces. Instructor Heather Therien won "Best in Show" for her Wedgwood-inspired wedding cake, "English Teatime."
Wake Tech students showed off some impressive skills: three entries won gold medals, 11 entries received silver medals, and five earned bronze. Wake Tech Baking and Pastry Arts Associate Department Head Caralyn House and three of her chef instructors also took home medals. Chef House earned a silver medal for a delicate and delicious buffet platter. Chef Eric Stopka won a gold medal for a sugar showpiece inspired by David Bowie and Chef Melissa Attanas earned a silver medal for an assortment of exquisite chocolates. All of the entries were judged on artistry, craftsmanship, theme, and presentation and were awarded points using the official ACF scale.
"Everyone did an incredible job," says Chef House! "I am very proud of the students and instructors who competed this year – all of the entries are incredibly creative!
Students from Stratford University in Newport News, Virginia also competed, along with a handful of high school students from Virginia.
The event is an opportunity to highlight the talents of culinary students as well as skilled professionals. It is also a final project for students in Wake Tech's associate degree programs in Culinary Arts and Baking & Pastry Arts. They receive valuable, one-on-one critiques from the professionals who judge the competition.