Around WakeTech
Incoming Wake Tech President Tours Southern Wake Campus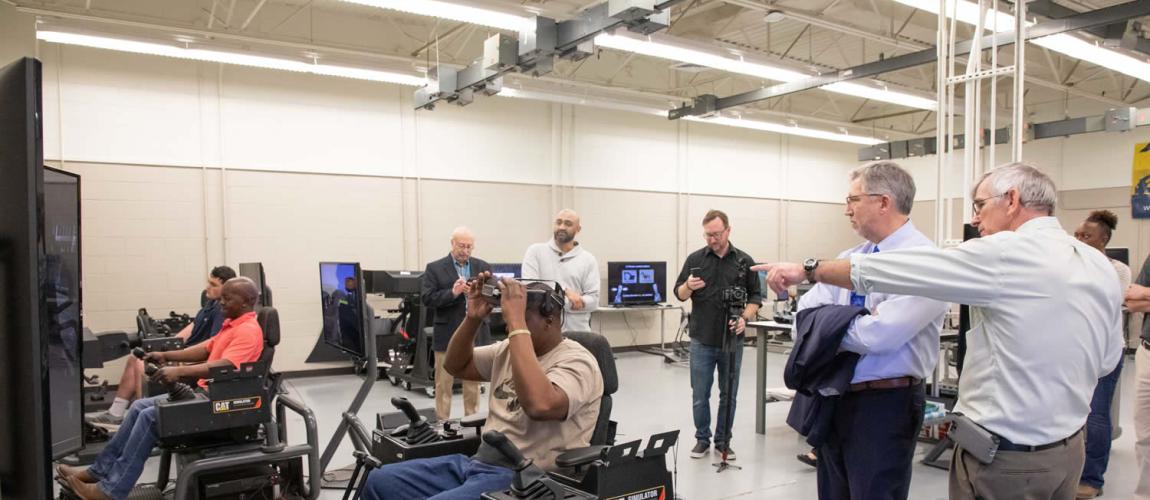 RALEIGH, N.C. (February 8, 2019) – Dr. Scott Ralls, who will officially begin his presidency at Wake Tech in April, visited the Southern Wake Campus today for a firsthand look at some of the college's most popular technical programs and to meet with faculty and staff.
Dr. Ralls toured the automotive and heavy equipment training programs and observed students learning the latest technologies and diagnostics to work on today's cars and heavy equipment. He even got a ride inside a John Deere tractor! Both of these specialized programs are filled to capacity: 45 students are on the waitlist for heavy equipment, while 60 are on the waitlist for automotive.
Dr. Ralls also observed the Heavy Equipment Operator simulation lab, and tried his hand at the high-tech simulator used to train students how to operate construction and farm equipment. After that, he stopped by Wake Tech's cosmetology and esthetics programs (which are also filled to capacity) and saw the lab for HVAC training.
A group of Wake Tech's strongest community supporters joined him and his wife Lisa for lunch at the college's student-run restaurant, and he ended the day meeting staff and faculty in the Conference Center. He expressed his excitement about coming to North Carolina's largest community college: "I'm just chomping at the bit to be fully here in two months," he said.
Dr. Ralls plans to return later in the month to visit other Wake Tech campuses.
A former president of the NC Community College System, Dr. Ralls currently serves as president of Northern Virginia Community College. (Watch this short video on his background.) His first day at Wake Tech will be April 11. Dr. Ralls will be Wake Tech's fourth president. He was selected in December after an extensive, nationwide search. He succeeds Dr. Stephen Scott, who retired in August.