Academics
Wake Tech Thanks Wake County Voters for Generous Show of Support
$349 Million Bond Approved for College Expansion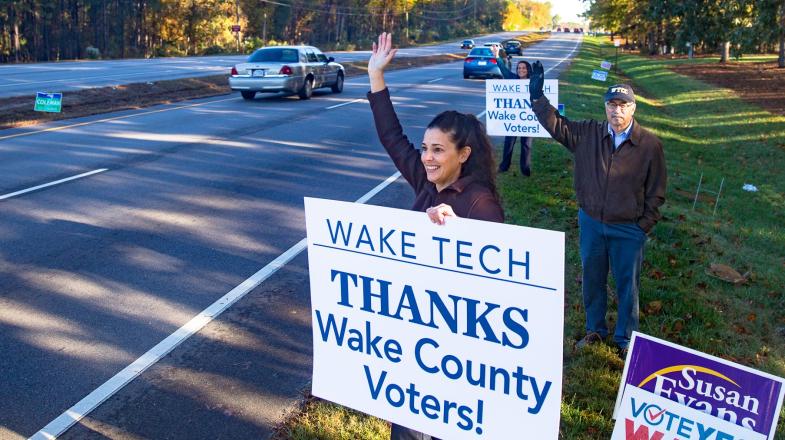 RALEIGH, N.C. (November 7, 2018) -Wake County will soon have an innovative new training facility for first responders, thanks to the support of Wake County voters. Voters overwhelmingly approved a $349 million bond in Tuesday's election, enabling the college to build new facilities to train more skilled workers for high demand fields. The referendum passed by 65%. College staff and administrators extended their appreciation to Wake County voters by taking to the streets with "thank you" signs during morning rush hour today, and by releasing this "thank you" video.
"On behalf of Wake Tech students, faculty, and the administration, I thank the citizens of Wake County for supporting this very important initiative," said Dr. Bill Aiken, interim president of Wake Tech. "Your support is deeply appreciated. This is your community college and your support for the bond shows all of us that you understand the value of the education and training that Wake Tech delivers."
Approval of the bond makes it possible for Wake Tech to keep pace with county population growth and record demand for education and training services. The new facilities will focus on public safety training, health care, advanced industries, automotive, and IT training. The bond will fund the following projects:
Simulation and Tactical Response Center at the Public Safety Education Campus
Health Sciences Building and parking deck on the Scott Northern Wake Campus
Automotive and Collision Repair Building on the Scott Northern Wake Campus
Advanced Industries Building and parking deck on the Southern Wake Campus
Parking deck and pre-planning for two classroom/lab buildings on the RTP Campus
These projects will be built over the next six years and will allow Wake Tech to serve an additional 5,000 students or more. Bond funds will also pay for college-wide repairs and infrastructure upgrades including accessibility enhancements and a mass notification system. The tax impact is $11.50 per $100,000 of assessed property value.
Wake Tech is North Carolina's largest community college, serving more than 74,000 students every year. That's the equivalent of one in 10 Wake County adults. Enrollment at the college has increased more than 50% over the past ten years, and is expected to continue to grow. A recent study found that the activities of Wake Tech, its employees, students, and graduates contribute more than $3 billion to the local economy each year.