Events
Wake Tech Opens Innovative RTP Campus
College's Ninth Location will Serve Students and Businesses in Western Wake County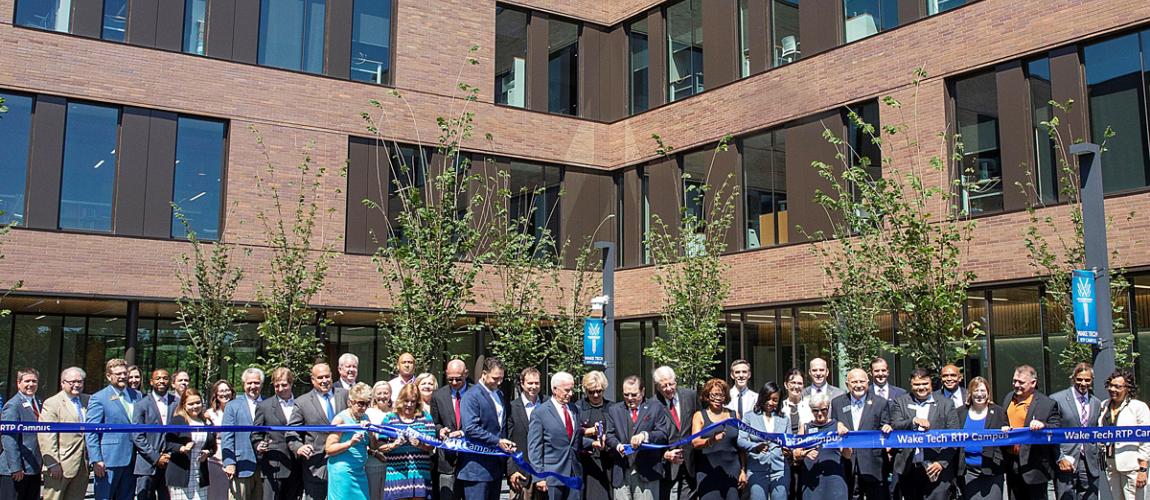 RALEIGH, N.C. (August 7, 2018) - Individuals and corporations in Western Wake County have a convenient new place to pursue their higher education and workforce training dreams. Elected officials, business leaders, and community partners joined Wake Tech President Dr. Stephen Scott in cutting the ribbon at the RTP Campus in Morrisville. The campus is billed as a "next-generation learning environment" that will focus on advanced, highly-technical programs and bring customized workforce training to corporations throughout Wake County. It will also make degree programs and professional credentialing much more accessible to those in the western part of the county.
"This new campus at RTP is about economic development, highly trained students with highly valued skills." said Wake Tech President Dr. Stephen Scott. "The demand for IT resources across the state continues to grow dramatically, and this campus is being created to meet that demand."
The RTP Campus is Wake Tech's sixth campus and ninth Wake County site. Phase 1 includes a 109,000 square foot instructional building and 550 parking spaces, and has the capacity to serve 1,050 students. Specialized technical programs include Business Analytics, Cybersecurity, and IT Storage and Virtualization, plus high-demand degrees such as Business Administration and Supply Chain Management. The campus also offers college/university transfer options and Career and College Promise (CCP) for high school students. It is the home of Corporate and Business Solutions, offering customized training for employers in and around Research Triangle Park. For a complete list of programs visit rtp.waketech.edu.
"We know that a skilled workforce is the number one reason companies choose to come to our state," said Governor Roy Cooper. "There is no doubt that the training that will take place on the RTP campus is going to help us recruit new industries, not just in the RTP, but in the entire region and across the state."
Wake Tech Board of Trustees Chair Tom Looney, a former Lenovo executive, said technology companies in the region have a stake in this new campus, and highlighted numerous partnerships between those companies and the college. "Wake Tech's RTP Campus illustrates our commitment to 21st century training, cutting edge classes and a new campus that is easily accessible to the surrounding research facilities. This is more than a brick and mortar building, the new RTP Campus is a collaboration. We're working hand in hand to make sure Wake County and North Carolina not only competes but leads the way," Looney said.
Lenovo announces grant
In addition, Lenovo Executive Vice President, Kirk Skaugen announced that the company was presenting Wake Tech with a $145,000 grant from Lenovo Philanthropies. Of the total commitment, $100,000 is dedicated to student scholarships and $45,000 represents a gift underwriting state-of-the-art technology for Wake Tech students. Skaugen challenged other tech companies in the Triangle to match or exceed Lenovo's investment and partnership with Wake Tech.
Two Computer Technologies students who will be taking classes at the RTP Campus this fall spoke at the event. Shantal Grullon and Stephen Luster gained valuable experience as paid interns at Lenovo. "I don't know where I'd be without Wake Tech," said Luster. Grullon's internship has already led her to permanent full-time employment at Lenovo.
RTP Campus support from bond funds
The $47 million dollar facility was built with funds from the 2012 bond, which was approved by 73% of voters. "Wake County voters understand the impact Wake Tech has on our economy," said Board of Commissioners Chair Jessica Holmes. "Wake Tech is not just building buildings, it is building lives," she said. A $349 million dollar bond will be on the ballot this November to enable Wake Tech to continue to expand to meet the growing higher education and training needs of Wake County. Learn more at bond.waketech.edu.