Events
Dedication Ceremony Celebrates Historic Donation
College Names Nursing Program After Benefactor Martha Mann Smith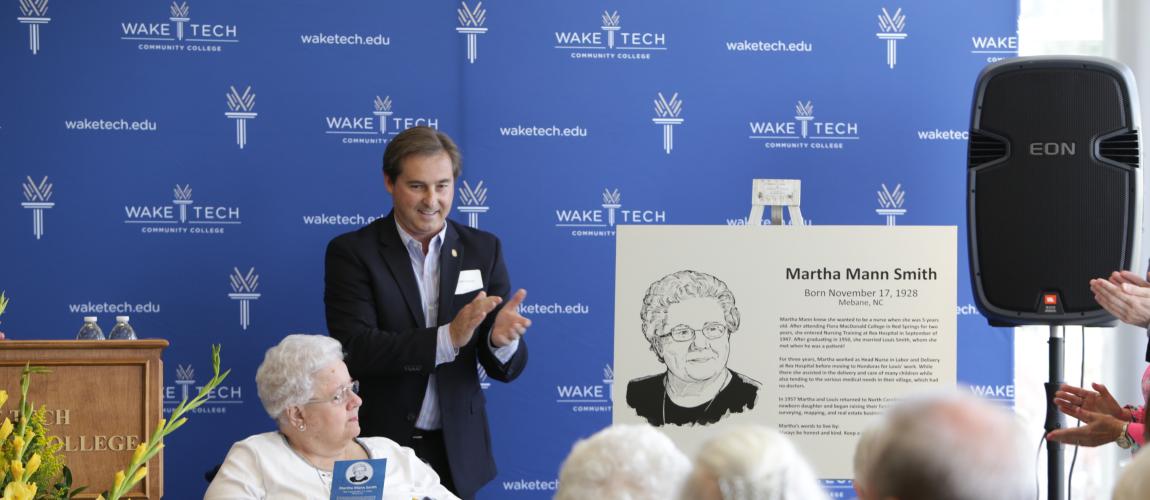 RALEIGH, N.C. (May 4, 2018) - Wake Tech celebrated the college's second largest gift ever, with a dedication ceremony at the Perry Health Sciences Campus. Martha Mann Smith, a retired nurse from Apex, donated $1 million to Wake Tech's nursing program. The program was renamed in her honor, as college leaders dedicated the Martha Mann Smith School of Nursing. Wake Tech is the first community college in the state to have a nursing school. The funds will be permanently endowed to support student scholarships, technology upgrades, and faculty professional development.
"Our nursing program is one of the jewels here at Wake Tech," said Wake Tech president Dr. Stephen Scott. "Martha's generous gift will make a difference in the lives of hundreds of nursing students and tens of thousands of patients and families."
Eddie Bacon, Mrs. Smith's son-in-law, spoke for the family. "Martha has a heart for giving. She believes when you are blessed with resources you should use them to help others and make our community better."
Following the dedication, Mrs. Smith attended Wake Tech's spring Nurse Pinning Ceremony. She received special recognition and a standing ovation. Sixty-five nursing graduates dressed in traditional white uniforms received a newly-designed Martha Mann School of Nursing pin, a long-stemmed red rose, and a ceramic lamp as a symbol of commitment and dedication attributed to Florence Nightingale. They also recited the traditional Florence Nightingale pledge.
"You are the first graduates of the Martha Mann Smith School of Nursing," said Dr. Scott. "It took hard work and dedication. I am proud of all of you - congratulations!"
College leaders also took Mrs. Smith on a tour of the state-of-the-art nursing simulation suite, the centerpiece of Wake Tech's nursing program. The program prepares excellent, well-qualified nurses who can practice in a variety of settings. Ninety-seven percent of nursing graduates pass state boards; 98 percent are employed within six months. Wake Tech's Associate Degree of Nursing is approved by the North Carolina Board of Nursing and accredited by the Accreditation Commission for Education in Nursing. For more information on the Martha Mann Smith School of Nursing, visit nursing.waketech.edu.