Around WakeTech
Wake Technical Community College Team Honored with Blackboard Exemplary Course Award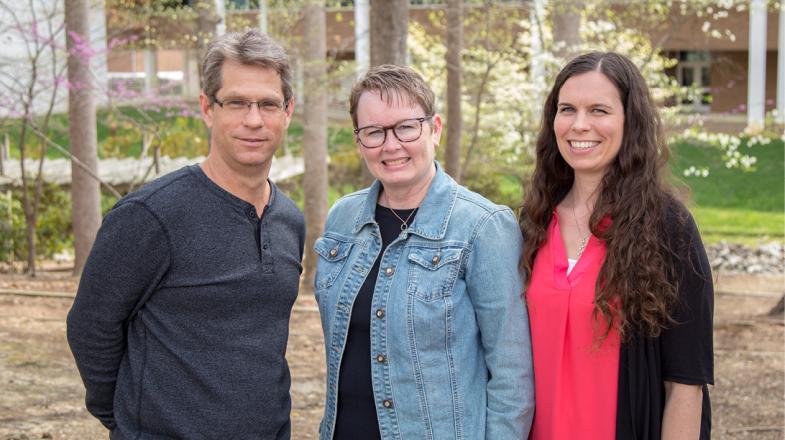 RALEIGH, N.C. (April 16, 2018) - Wake Technical Community College is pleased to announce that three of its staff members have been named winners in Blackboard's Exemplary Course Program (ECP). The awards program recognizes faculty and course designers from schools, colleges, and universities around the world who develop engaging and innovative courses that represent the very best in technology and learning.
The team of Dr. Chris Roddenberry, Associate Professor of Psychology, Shelley Evans, Instructional Designer, and Cynthia Bowers, Instructional Technologist, won for their course "General Psychology." The course demonstrated excellence in four areas:
Course Design: the elements of instructional design, such as its structure, learning objectives, and instructional strategies.

Interaction and Collaboration: the level of engagement offered by the course and the level of student interaction and collaboration

Assessment: the evaluation of student work toward the achievement of learning outcomes and the quality and type of student assessments

Learner Support: the resources made available to students, which may be accessible within or external to the course environment.
For 17 years, the ECP has recognized instructors and course designers whose courses demonstrate best practices. Since its founding, thousands of instructors, teachers, and designers have used the ECP to evaluate and improve their courses with recognized best practices. To be considered for the honor, applicants must be a user of the Blackboard Learn or Moodlerooms learning management systems. Submitted courses are evaluated by other course developers, instructional designers, teachers, and professors using the ECP Rubric.
"I'm proud to recognize Shelley, Cynthia, and Chris for their commitment to creating engaging, innovative courses that maximize learning outcomes," said Bill Ballhaus, Chairman, CEO and President of Blackboard. "We look forward to continuing to partner with Wake Technical Community College and other members of the educational community to drive student success."
Roddenberry, Evans, and Bowers will be honored alongside other outstanding recipients on the Blackboard website as well as in the Blackboard Community, a platform where the largest organized network of Blackboard users connect, collaborate and learn from their peers.
Acknowledgments
This material is based upon work supported by the U.S. Department of Education grant no. P116F150082
To learn more about the Exemplary Course Program, visit https://www.blackboard.com/resources/are-your-courses-exemplary.
About Blackboard Inc.
Our mission is to partner with the global education community to enable learner and institutional success, leveraging innovative technologies and services. With an unmatched understanding of the world of the learner, the most comprehensive student-success solutions, and the greatest capacity for innovation, Blackboard is education's partner in change.
About Wake Technical Community College
Wake Tech is North Carolina's largest community college, serving more than 74,000 adults annually, with six campuses, three training centers, multiple community sites, and a comprehensive array of online learning options. Wake Tech is accredited and offers more than 200 associate's degrees, diplomas, and certificates that prepare students for university transfer or immediate employment. The college offers non-credit continuing education programs that include customized workforce training, small business support, public safety officer training, basic skills courses such as English as a Second Language and high school equivalency preparation, and other courses for personal enrichment. Wake Tech also serves high school students at the Wake Early College of Health and Sciences, Vernon Malone College, and Career Academy, and North Wake College and Career Academy, in partnership with Wake County Public Schools. For more information, visit www.waketech.edu, and on social media @waketechcc.