Academics
Raleigh Resident Named 2017 Scott Scholar
Aaron Ruff Receives College's Most Prestigious Honor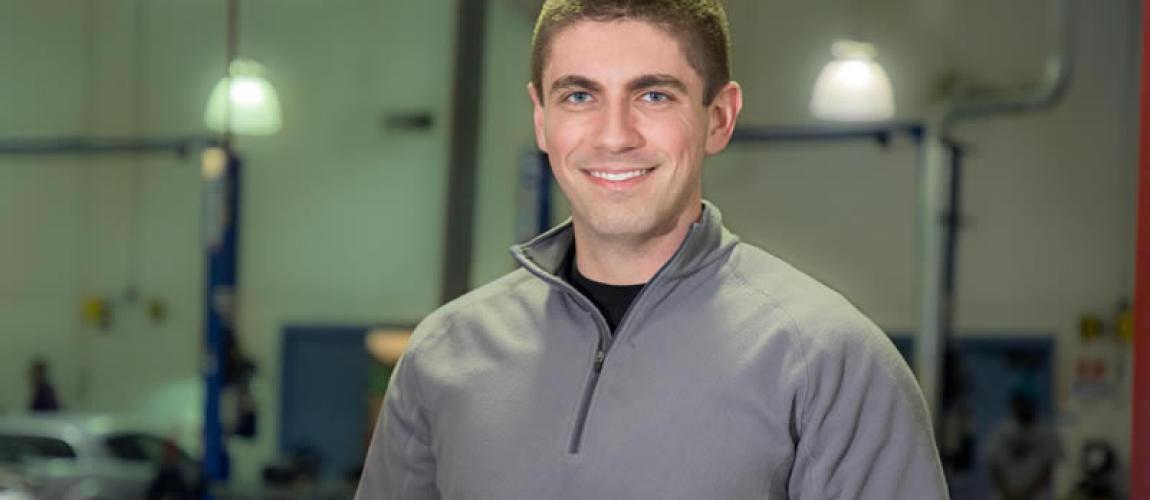 RALEIGH, N.C. (January 8, 2018) – Dr. Stephen C. Scott, President of Wake Technical Community College, is pleased to announce that Raleigh resident Aaron Ruff has been named the 2017 Scott Scholar. Ruff is a student in Wake Tech's Automotive Technology program. As Scott Scholar, he receives up to $3,500 for tuition, fees and books along with a laptop computer, a summer internship placement, and a mentor from senior administration. He will also have regular one-on-one sessions with President Scott. The Scott scholarship is Wake Tech's most prestigious and sought-after distinction.
"I'm overwhelmed!" Ruff says, "This scholarship will help relieve some of the financial burdens that come with investing in my future."
Ruff describes working on cars as "an adventure" and says his interest began when he was a student at UNC-Greensboro, trying to settle on a major. "I knew I'd never want to sit at a desk," Ruff says, "and that sparked my interest in the trades. I was watching a movie when it hit me: Cars are cool!"
Ruff graduated from Raleigh's Cardinal Gibbons High School in 2014, where he was president of the robotics and video production teams and participated in the U.S. Naval Sea Cadets. He now volunteers as an Ensign instructor in that program, teaching teenagers the fitness and life skills he learned. He says he's excited about the leadership opportunities the Scott Scholarship includes: "I hope I can create a vision that inspires others to keep working toward success."
"Aaron exemplifies the commitment and achievement our Scott Scholars program was created to reward," Dr. Scott says, "I'm very proud of him for the time he invests in helping young people, and his desire to make his community a better place."
Ruff is also interested in law enforcement and hopes to become a sworn officer in the future. He currently works part-time as a services officer for the Garner Police Department, and plans to enroll in Wake Tech's Basic Law Enforcement Training Academy after earning his automotive degree.
The Stephen C. Scott Presidential Scholarship program is a merit-based scholarship designed to provide leadership development opportunities for outstanding students in associate degree programs at Wake Tech. It was established in 2012 with a $25,000 endowment from Wake Tech alumni Mark and Rachel Selisker.