Events
Phi Theta Kappa Celebrates New Members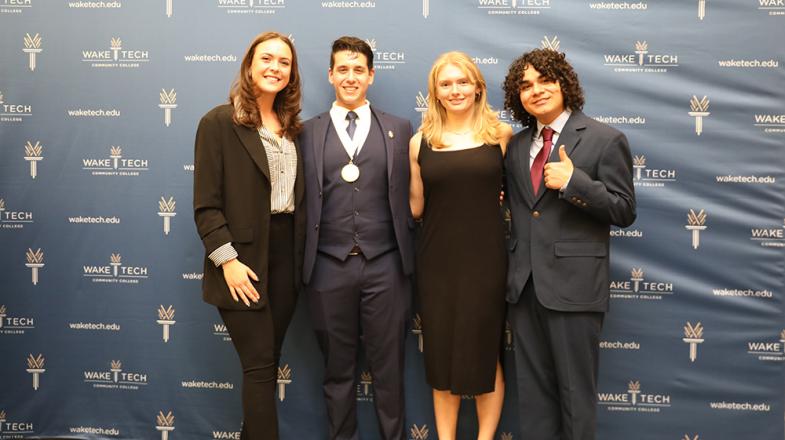 RALEIGH, N.C. (November 15, 2023) – Wake Tech's Beta Alpha Zeta chapter of the Phi Theta Kappa honor society welcomed more than 80 new members during a Wednesday night induction ceremony on the Southern Wake Campus.
The international academic honor society for two-year colleges offers opportunities for scholarship, leadership, service and fellowship for students in associate degree programs. Wake Tech's PTK chapter earned five-star status for the first time last year. Colleges earn the distinction by completing a list of criteria, including leadership development courses, international convention participation, research-based projects and other activities to enhance the personal and academic growth of members.
The ceremony featured guest speaker state Rep. Cynthia Ball, who encouraged the inductees to be lifelong learners.
"Congratulate yourself on your achievement, and I encourage you to keep yourselves serious about your studies after Wake Tech and go on and choose to be leaders," Ball said.
She and her husband, David Aspnes, sponsor a scholarship at Wake Tech for future teachers.
The ceremony also included the installation of chapter officers for 2023-24. They are Angelina Yang, president; Grace Linares, vice president, Perry Health Sciences Campus; Nola Ruit Craig, vice president, Scott Northern Wake Campus; Carson Whitehurst, vice president, Southern Wake Campus; Robert Cipriano, publicity secretary and Emma Frances Lamb, recording secretary. The installation was presented by Wake Tech student Zoe Horne, who serves as PTK North Carolina Vice President of the Carolinas Region.
Family members and friends proudly watched as inductees were presented with a white rose, symbolizing beauty, purity and intelligence.
Students must maintain a 3.5 grade point average to be eligible for membership. Here are this year's inductees:
Syed Abbas
Agwu Agwu
Alaric Ani
Emerson Ayala Recinos
Sugandh Bhardwaj
Denise Borgna
Andreeka Bowen
Caroline Briley
Jaden Briley
Victoria Burgess
Violet Callahan
Mario Cano
Bradley Carroll
Linda Cayton
Deborah Crawford
Natalya Danajka
Sydney Davis
Teniel De Lucia
Finley Dickens
Christine Dimal
Ashley-Suzanne Driver
Gabrielle Dunston
London Evans
Paris Evans
Natalie Fielding
Olivia Fitzpatrick
Corben Gardner
Britanie George
Joseph Goheen
Jonas Goodwin
Mario Guzman Damaso
Xia Hahn
Sarah Harvey
Valentin Hernandez Martinez
Megan Hinesley
Marielise Ishak
Beatrice Kincaid
Olivia Kness
Chase Koster
Eduardo Enrique Lemus Calderon
Jarred Light
Estephanie Linares
Vania Llerena Mezones
Viktoriya Luchkevych
Selena Luck
Daniel Lurie
Tyler Macgregor
Rigi Mavungu
Anita Meredith
Leora Milner
Olivia Moore
Rosy Morales Castro
Dargan Mould
Catherine Nau
Chana Nel
Dennis Nometa
Joshua Nunnery
Brandon Olcott
Samantha Olivar
Mary Otis
Deniz Ozturk
Jennifer Padilla
Ethan Pelton
Jade Phan
Mason Redd
Ian Redman
Jason Riddle
Sharon Riley
Nadia Rivera
Latoya Rivers
Jonas Rozario
Duaa Safder
Joseph Sanchez
Zoe Sewell
Sabrina Shibu
Ryan Softa
Jordan Walker
Logan Watkins
Jessica Weber
Xavier Wilson
Jordan Woodell
Brittany Young
Chapter advisors are Associate Registrar Michelle Capps, History Professor Steven Hill, Humanities Professor Dr. Jean-Pierre Kamuabo, Liberal Arts assistant to the dean Rhonda Thomason, Associate Professor of Psychology David Thompson and History Professor James Wils.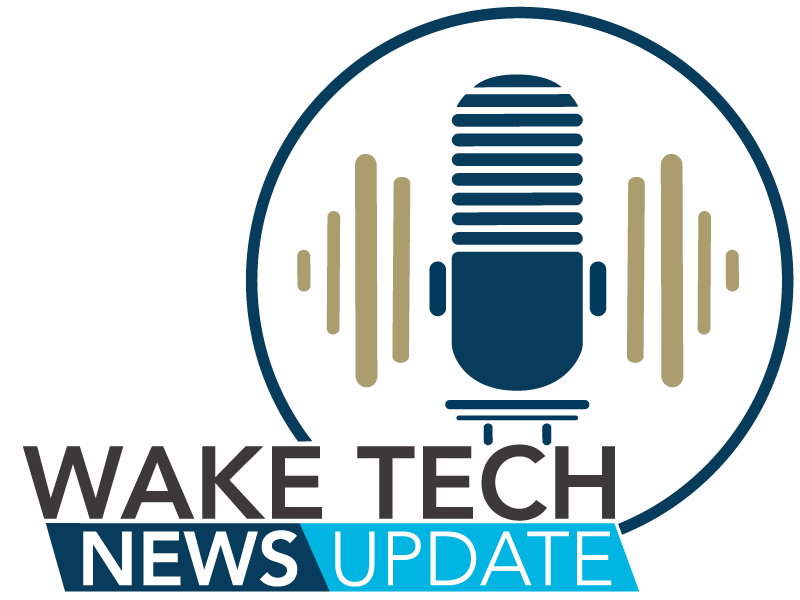 Latest News from Wake Tech