Events
Celebration Showcases Stories of Life Changing Partnerships
College Hosts Sixth Annual "IGNITE" Event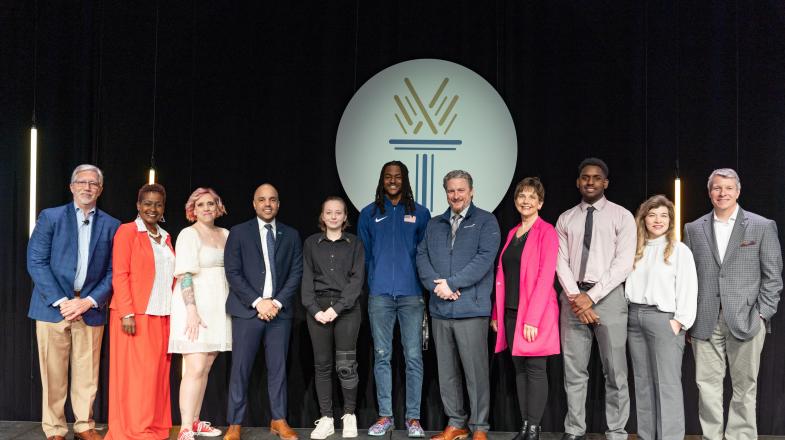 RALEIGH, N.C. (March 1, 2023) – More than 750 local business leaders and influencers gathered Wednesday at the Raleigh Convention Center for "Wake Tech IGNITE," an annual event to showcase the college and its mission of transforming lives. Video highlights.
Hosted by the Wake Tech Foundation, this year's theme was "Wake County Runs on Wake Tech" and showcased how the college strives to serve its neighbors by helping them achieve their dreams.
"When you champion Wake Tech, your champion our community," said Wake Tech President Dr. Scott Ralls. "You shorten the journey that our students have to take to reach their goals."
The event included impact testimonials from students, graduates, employees and community partners:
Taj Hewitt
Wake Tech student and Scott Scholar Taj Hewitt shared how he has taken advantage of every opportunity possible at Wake Tech since moving to Raleigh from Jamaica to pursue an Associate in Science degree. Hewitt received the merit-based Scott Scholarship, the college's most prestigious and sought-after honor, designed to provide leadership development opportunities for outstanding students in associate degree programs. Hewitt also served as a member of the Student Government Association and participated in the college's STEM Academic Research and Training program. Hewitt, who plans to transfer to North Carolina State University after he graduates in May, says his education runs on Wake Tech. "Wake Tech has really built a unique culture where it provides students like me with opportunities to grow inside and outside of the classroom," he said. Hewitt's goal is to return to Jamaica and work alongside his father in the agriculture industry to address hunger and food insecurity. "I never knew that my journey would be international."

Karen Schaefer
Retired Cisco software engineer, Wake Tech graduate, former Wake Tech faculty member and donor Karen Schaefer talked about the benefits of students getting excited about Wake Tech as a first-choice path to a career. She highlighted the high wages offered to STEM grads, the small businesses created after completing a degree in the trades and the lifetime of job opportunities available to Health Sciences graduates. "We, as parents and business leaders, are missing out by not educating our high school students about the opportunities that a technical college can provide for them," she said. Schaefer created the Karen Downer Schaefer Scholarship Endowment for students to attend Wake Tech right after high school graduation. It funds tuition and basic needs. She also created a plan to fund a person to embed in Title I high schools, where more than 40% of students are registered or eligible for free and reduced-price lunches. Shaefer says focusing on students who are most at risk in Wake County is critical. "We can empower them and inspire them that they can go on to higher education, make great grades, graduate and earn a solid living wage. It's important to have a vision of your success before you can realize it!"

Anthony Garnes
Wake Tech Director of College Access Anthony Garnes discussed his plan to help underserved students in Wake County begin thinking about the possibilities for success. He developed a program for Title I high school students that focuses on three key areas: counseling, assistance with the Free Application for Federal Student Aid (FAFSA) and help with college applications. Garnes visits high schools every week to meet with students and offer guidance. "I want to help put them on the right course for the next phase of their lives," he said. "I want them to say yes to a secondary education and yes to a brighter future." Garnes' efforts are working. Wake Tech found that helping Title I students in these three core areas increases the likelihood that they will pursue a two-year college degree or higher. "These students often have a gap between high school and their next step. My job is to fill that gap with options and encouragement and to make the door wider and easier to walk through."

Christyn Brookover
East Wake High School graduate and current Wake Tech student Christyn Brookover is one of the students who benefited from the Title I clinics developed by Garnes. Brookover shared how she was struggling with a difficult home life and living in poverty when she turned to Garnes for help filling out the FAFSA. "It was a game-changer or, really, for me, a life-changer," she said. "With perseverance and the help of Mr. Garnes, my education didn't stop at high school." Brookover enrolled at Wake Tech after graduating from East Wake High. She plans to transfer to Appalachian State University in the fall. "Wake Tech helped me get a jump start on college, and with funds from FAFSA, I get the chance to do something with my life. My education and my future runs on Wake Tech," she said.

Casey Tart
Wake Tech graduate and Global Head of Digital Support Services at Credit Suisse Casey Tart highlighted how the popularity of either reskilling by learning a new skill or upskilling by advancing knowledge related to a current role has opened a diverse talent pipeline for employers. Tart turned to Wake Tech to pursue industry-recognized certifications after attending West Point and North Carolina State University. He says those certifications allowed him to go from an entry-level job in IT support to his current role as an IT director leading digital support for Credit Suisse – managing teams in the U.S., Poland and India. "Only with education was I able to advance my career," he said. Tart shared how Credit Suisse partnered with Wake Tech to improve the company's information technology talent pipeline. The company has hired nine Wake Tech students through the program. "Wake Tech is a teammate of Credit Suisse; they're a teammate of our whole community. The college is committed to helping people like me – and maybe like you – transition into a career you love or upskill into a career that better fits your goals. We all run on Wake Tech."

Dr. Jamie Wicker
Wake Tech Public Safety Education and Training Provost Dr. Jamie Wicker highlighted Wake Tech's commitment to train public safety personnel. "With about a 15% vacancy rate in our public safety roles, Wake Tech wants individuals who are interested in this field to have the opportunity to pursue it," she said. Wicker discussed the training facility under construction at Wake Tech's future Eastern Wake Campus in Wendell to augment the Public Safety Education Campus in Raleigh. This building will provide reality-based training that will aid law enforcement, EMS and fire personnel who need cutting-edge technology. "With a need for more first responders in Wake County, our college is ready to partner with local agencies to address the shortages in this profession and to give our first responders the finest training in the nation. Wake Tech is your support team to help you when you need it the most."

Carrie Fisher and Valerie Bishop
Wake Tech graduate Carrie Fisher and Assistant Professor of Cosmetology Valerie Bishop shared their story of a priceless gift. Fisher, who worked as a chef for more than 20 years, enrolled in Wake Tech's Cosmetology program after deciding to change her career. Bishop had an immediate impact. "Professor Bishop was more than just an instructor; she was invested in her students and was always available to support them both in and out of the classroom," said Fisher. So, when Fisher found out that Bishop needed a kidney to survive, she raised her hand as her donor. "Sometimes the race you run isn't the one you anticipate." The operation was a success, and Bishop says she is profoundly grateful. She told the audience how the support of her family, friends and Wake Tech has been overwhelming and that she and Fisher are connected forever. "I can't wait to see all of the good things coming to my dear friend Carrie because of the priceless gift she chose to give me: life."
Wake Tech IGNITE is focused on strengthening community relationships and developing new partnerships. The Wake Tech Foundation cultivates and manages a variety of resources critical to the college's success: corporate investments, private grants, alumni and employee contributions and financial and in-kind support from many other friends of the college. These resources fund diverse projects, from student scholarships to broader instructional and institutional needs.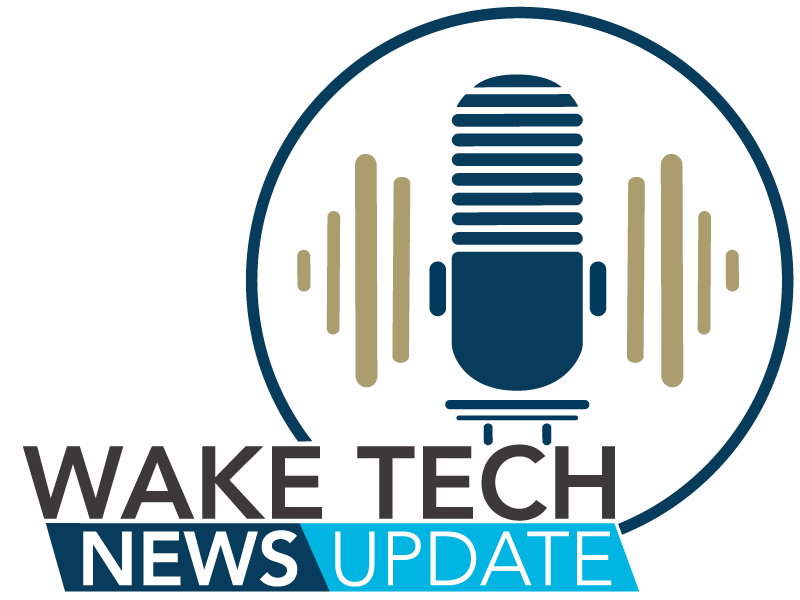 Latest News from Wake Tech