Events
Wake County Students Explore Public Safety Careers
Career Accelerator Day Included Hands-on Experiences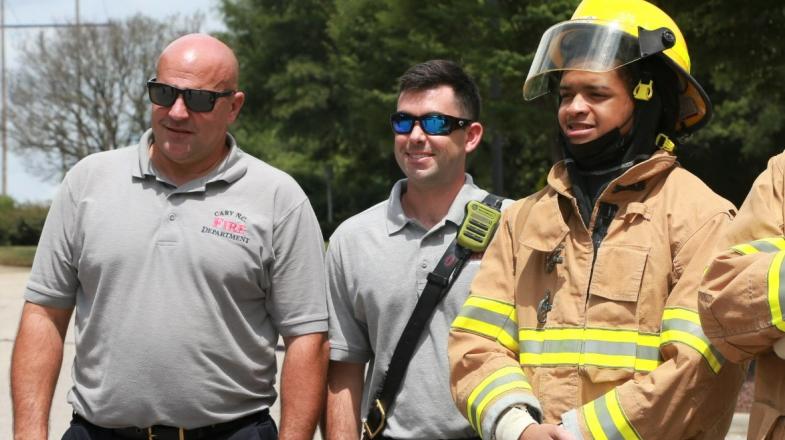 RALEIGH, N.C. (July 26, 2022) – More than two dozen Wake County high school students explored career options in public safety today at Wake Tech's Public Safety Education Campus. The inaugural Career Accelerator Day offered real-world workplace learning experiences.
Students had the opportunity to explore careers in Fire Services, EMS and Criminal Justice. They interacted with faculty experts in these professions and participated in hands-on activities in a fire truck, ambulance and crime lab to get a feel for what these jobs and workplace environments are really like.
In addition to these immersive experiences, students received coaching and instruction in resume building, career exploration, goal setting, action planning and other aspects of career readiness.
"We're so excited these students are getting a hands-on experience in career exploration," said Wake Tech Recruitment and Outreach Officer Jose Fabre Jr. "They are learning about possible careers and the programs and services we offer here at Wake Tech to help them achieve their goals."
Wake Tech's Career Accelerator Day is part of a new workforce development initiative designed to provide high school students in 10th through 12th grade with hands-on career exploration opportunities at local businesses and organizations. It is a partnership between Wake Tech, the Wake County Public School System (WCPSS) and WakeEd Partnership. In addition to public safety careers, students were also exposed to barbering as another great career option. Barbering is also taught at the Public Safety Education Campus.
This initiative stems from the free, two-week summer Career Accelerator Program hosted by WCPSS and WakeEd Partnership taking place at six high schools across Wake County this summer aimed at fostering career and college readiness.