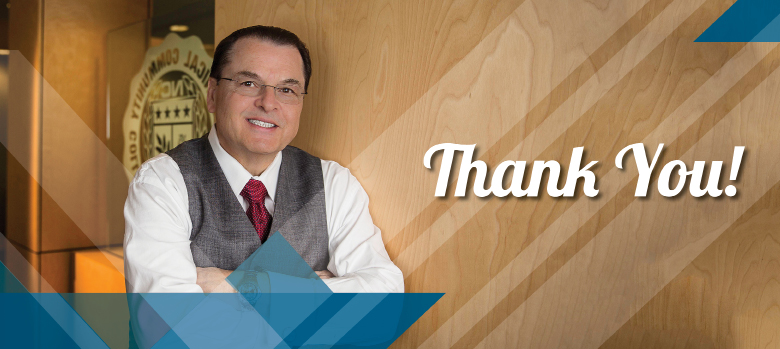 Our esteemed President, Dr. Stephen Scott, will retire in August of this year after a career that spans more than four decades. He has been at the helm of Wake Tech since 2003, guiding our exponential growth and expansion, and inspiring us as a dedicated leader.
---
Submitted Reflections
Dr. Scott, Thank you for your constant support of faculty during your time at Wake Tech. The faculty are so appreciative of the support in facilities, materials, and pay. Implementing faculty rank has provided a system for faculty who do more to be rewarded. Establishing the Collaborative Council will provide faculty, staff, and students an opportunity to meet to share ideas and concerns with the leadership of the college. These efforts make Wake Tech a great place to teach! We appreciate your support so that we can best support students.
Dr. Scott, Thank you for your leadership over the years. May your season of retirement be everything you desire and more. Best Wishes.
I had the pleasure of spending a few minutes with Dr. Scott after his "Ultimate Exit Interview". I've been with the college for 18 years, as an adjunct Instructor, as a full time Instructor, and now as a Supervisor ~ all in WCE. I really appreciate the vision that Dr. Scott has brought to WTCC, and the things he's accomplished with that vision. I also appreciate the tone he set for us all, and the commitment he's shown year after year to the students, staff, and faculty. Dr. Scott, you will be missed.
The first time I met you was when Dianne Hinson gave you a tour of the chemistry labs in the fall of 2003. I was a fulltime temporary instructor fresh out of graduate school back then. I took a position elsewhere for a year and returned when I was hired as a full time instructor in January 2005. The changes I noticed in one year were incredible. I have always marveled at your leadership and vision. While it is true that such tremendous growth must come with some growing pains, it was always easier to push through the tough times knowing that the College was in good hands. Thanks for being not just a good President, but a GREAT President that always strived to be better. Enjoy your retirement!
I had the honor of meeting and working with Dr. Scott in 2011, when I began working for the NC Community College Trustees Association. I had many opportunities to see firsthand how fiercely he supports not only our students, staff and faculty, but those at all of our 58 colleges. I quickly knew that if I were to work at one of our community colleges, I wanted to work for Dr. Scott at Wake Tech. Now, I've had the privilege to work directly under his leadership for the last three years, and my admiration for him continues to grow. Congratulations on your retirement, Dr. Scott. I hope this next chapter in your life is filled with many sweet memories with those you love. 
Congratulations on your retirement! These past 10 years at Wake Tech have been very transformational for me both personally and professionally under your leadership. You are an amazing visionary and you will be missed. Wishing you all the best.
I remember the second time I spoke with you one-on-one. You knew my name. And, as you talked with others, I marveled at the fact that you knew theirs, too. Thank you for taking the time to get to know us. You made us feel valued. When you could, you made sure to use available funds to offer pay for all employees, not just a few. Thank you for building a spirit of cohesion. You made each of us feel a part of the team. The college has changed and grown so much under your leadership. Through it all, you have worked to be transparent and inclusive. You shared your vision, listened to our concerns, and made each of us feel like we had a role in the direction the college moved. Thank you for sharing your light. Thank you for leading the way. 
Dr. Scott, you have truly exceeded the duties of a community college president. You have contributed so much to the college and the community. I feel truly blessed to be employed under your leadership. I appreciate how you've valued every job from each employee at Wake Tech. I am happy for you, and sad to see you leave! May God Bless you and your family. Thank you again for everything you have done!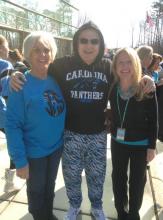 Dr. Scott is such an amazing person and leader. I joined the Wake Tech family in 2008 and left in the Fall of 2017. In my nine years there, Dr. Scott led so much growth not only for the institution, but also for faculty and staff. I had the pleasure over my nine years with WTCC to shake Dr. Scott's hand and sit at his table a few times. He is such a humble man who has given so many students, faculty, and staff a chance to shine and develop as he did for me at Wake Tech. God bless you Dr. Scott. You will be truly missed, but I will be forever grateful for having worked under your leadership.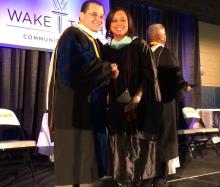 I say the class of 2003 is the best because that was the time frame Dr. Scott and I arrived at Wake Tech. His leadership and support of faculty, staff and students was evident from the start and has never ceased. I greatly appreciate your dedication and vision for the Wake Tech family. I wish you and your family the best.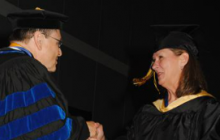 Dear Dr. Scott: My heart is heavy, as I had always hoped you would be the only President I would serve under. But the happiness for you and your family- that you will be able to spend time together far outweighs the other. The words "thank you" are so small in comparison to what I feel I need to say as you embark on your next chapter in life- you have been a great inspiration to me as a person and as an employee. You showed what a great leader looks like- always forward thinking to ensure our future, fierce in leading us through hard budget times, and always looking for ways to give to us, even when there wasn't anything to give. Through your leadership, you led us to be the biggest and best community college in the state. As we were growing, you chose great people to assist you with this task, and as you leave us, I am very thankful of that. You personally were a part of my life during some tremendous milestones, and through each one, you took the time to speak to me genuinely-as a person, not just another face in the crowd. One of my proudest moments in my life was when I walked across the stage and received my degree from WTCC and you were there to present it to me. Thank you providing to us the ability to have such robust professional development and leadership opportunities. Thank you bringing Applied Benchmarking to us. And all the great, fun convocations we had and will remember for many years - I only hope our next president will have your sense of humor and enjoy making memories with us. So, again- thank you Dr. Scott-for all you have done, are doing and continue to do- because I know, you will always a A WAKE! PS- we will miss "The Turtle" 
I would just like to say thank you for all you have done for the college and the example you have set for all of us. I have appreciated your kindness, empathy and humor; you will be missed more than you know. 
Having worked at Wake Tech prior to Dr. Scott's arrival, I am amazed at what this College has become under his leadership! Dr. Scott always had high expectations for his faculty and staff, but always recognized and rewarded the hard work they did. I will always treasure being invited to lunch with Dr. Scott at Flavors, where we talked about everything except business, and I got to learn more about him. Dr. Scott has made Wake Tech a great place to work and learn, and he will leave an enduring legacy. Thanks for everything Dr. Scott!
In economics, one of the lessons we teach is on the Classical Dichotomy. And while in economics the meaning of the Classical Dichotomy is something very different, I like to think of Dr. Scott as his own "Classical Dichotomy." On the one hand, he is a transformational leader. I arrived at Wake Tech only two years after he did. The Wake Tech of 2005 was very different than the Wake Tech of today. Back then, no classrooms were "smart." Our phones were rotary – ok, maybe not rotary, but probably the earliest version of push button. The buildings on campus were in serious need of an update. Speaking of campus, there was no North Campus!…Today, we are a totally different school with Dr. Scott leading us into the 21st century. On a shoe string budget, he prioritized student outcomes by focusing on faculty. He fought for our raises, but he expected us to improve Wake Tech by initiating the annual benchmark report. Under his leadership, the school initiated faculty rank which provides the incentive for faculty to contribute to Wake Tech beyond their teaching. Today, Wake Tech is a leader among the nation's community colleges. Our faculty present at national seminars, and we continue to be one of the fastest growing community colleges in the country. Over 70,000 students a year vote with their feet to declare Wake Tech the best use of their time and educational dollars. On the other hand, beyond being a transformational leader, Dr. Scott is a caring man with a strong moral character. He pays attention to individuals. After arriving at Wake Tech, I quickly learned that he majored in economics as an undergraduate at Clemson. During presentations to faculty, when he wanted to make an economic point, he frequently looked over to my colleague, Geeta Shah and I, "Isn't that right, Geeta and Kelly?" Of course, that made our day. One year, at the annual Christmas party, we saw a video of Dr. Scott reading A Visit From St. Nicholas (The Night Before Christmas) to his grandchildren. He is a man who visibly cares about family. He has his priorities right. And Wake Tech is clearly a part of that extended family. But now is the time to pivot… Good luck Dr. Scott. You have an amazing legacy and much to be thankful for. Enjoy your retirement, and best wishes!
When I first started working at Wake Tech in 2009, one of the things that most stood out for me was the high regard my faculty colleagues held for Dr. Scott. They sincerely supported the direction he was taking the college in and appreciated the respect he showed both faculty and staff. His leadership over the subsequent years only reinforced this sense of trust. And when, during that first year, I was offered a full-time position at Wake Tech, this positive, forward-thinking atmosphere he was so responsible for fostering at the college played no small role in my decision to accept that job offer and to remain, happily, in my position over the years.
I have been proud to have you as the President of this college! The time that you have been here there have been many challenges and you helped this college succeed and excel. I have appreciated your support of the nursing faculty and program. It makes me sad to know that this graduation is the last time will I hear you talk about the turtle on the fence post- lol! You are leaving an amazing legacy at this college and I wish you the very best in your future. Thank you for sharing your gifts and talents with Wake Tech!
Congratulations on your upcoming retirement. I wish you the very best.
Dr. Scott, you have been a never-ending advocate for faculty, staff, and students. You have led us through the economically good and lean years, always trying to improve our lives through pay raises and bonuses. You have pumped energy into Wake Tech, not by asking us to be the best, but instead to be better. It has been a pleasure serving under your leadership. You will be missed.
Congratulations, Dr. Scott, and thank you so much for your wonderful leadership! You truly transformed Wake Tech and the lives of thousands of students. You have been very good to employees. We will really miss you!
Congratulations, good luck, and thank you for making Wake Tech what it is today! 
I am a retired electrical engineer in my 4th year as a 9 month Assistant Professor in Engineering, after working as an adjunct professor at Wake Tech for several years. The atmosphere at Wake Tech is unlike any I had seen before. There is a positive spirit at WTCC that affects everyone, students and employees! After watching you lead this institution, I am convinced that the source of that positive spirit starts with you! I have worked in industry for 30+ years prior to retiring and the atmosphere at any company is driven from the top. You are the reason WTCC is the outstanding community college that it is. You will be missed! I hope that the board of directors can find someone half as good as you! Have a great retirement!
Congratulations on your retirement! I have thoroughly enjoyed my last seven years at Wake Tech and I attribute that, in part, to your outstanding leadership. My first impression of you was a positive one. I was encouraged knowing that you felt it a priority to introduce yourself to the recently hired staff during my Orientation and appreciated you shaking each of our hands individually, asking us our names, and personally welcoming us to the College. My respect and admiration for you as the President of this college has continued through the years. I appreciate your genuine passion for Wake Tech and the measures you have taken over the years to ensure its excellency. I wish you the best as you transition into the next chapter of your life.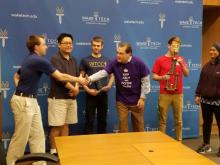 Dr. Scott, you helped us all create and celebrate success. Over the years, it's wonderful how you would meet with students from the Math Club and Chess Club to celebrate their achievements in competitions and to get to know more about their experiences and plans. The Mathematics, Sciences & Engineering division benefitted from many applied benchmarking projects and major grants, making changes that advanced teaching and learning and kept our faculty as leaders in their disciplines and for education. Dr. Scott, congratulations and thank you for your interest and support for all things Wake Tech! 
I was hired the year after Dr. Scott came to Wake Tech and the thing that impressed me the most was that he was a mathematician just like me! I later used that fact to encourage him to help out with the Math Contest that the Math & Physics department sponsors each year. My favorite year was when he brought a box of chocolates from the culinary department to give away to the student that could figure out how many different ways the culinary department could box the chocolates. Only a true mathematician could come up with such an awesome way to relate to a group of math nerds! I will miss Dr. Scott and wish him the best in the future!
It has been such a pleasure to work for a man with compassion, morals, and just down right common sense. I have been working here for nearly thirty years and you are by far the most genuine person to hold the office as president. I for one have greatly appreciated you being here and leading this college. I know how rough life can be and your family has been in my prayers. I just want to say thank you for your loyalty to us as staff that work here and that you will never be forgotten. Thank you for being a great boss and an even better friend!
Dr. Scott, I have greatly appreciated your leadership while you've been at Wake Tech. Your focus on taking care of the people who work here has fostered an environment of respect and has made me feel valued in a way that was impossible before you arrived. Thank you for that and for all you have done for the Wake Tech family. I wish you a peaceful and serene retirement, as you well deserve.
Thank you for being an advocate for all employees at Wake Tech!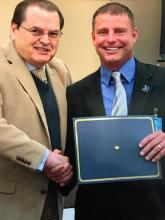 Spring of 2012, Dr. Scott met with me in his Holding Hall office along with Rita Jerman. We discussed my current position as Dean of Students at Edgecombe Community College. As a new resident to Wake County, I shared my desire to work for Wake Tech. On April 1, 2013, I began at Wake Tech as the Associate Dean of Student Development. The past five years at Wake Tech are the most rewarding in my higher education experience. Most notably, Wake Tech's Leadership Program led me into Wingate University's Community College Executive Leadership doctoral program. Attached is a photo of myself and Dr. Scott at Wake Tech's Leadership Program graduation in March 2015, completion of Modules II and III. Dr. Scott's mentorship and motivation were instrumental in earning my Doctor of Education (Ed.D.) in December 2017. Over the three year period of doctoral work, Dr. Scott shared with me practical guidance on becoming a leader in a community college. As the first Wake Tech employee to complete Wingate University's Ed.D. program, I wore my Wake Tech pin or apparel to every one of the 85 Saturday classes in Charlotte, N.C. I was very fortunate to reference Dr. Scott and Wake Tech in my papers and presentations. From Wingate University's Ed.D. director to faculty, everyone respected the work and leadership of Dr. Scott! The legacy of Dr. Scott's leadership is one I will carry forward while serving in the community college. Dr. Scott, thank you for being accessible and willing to share yourself with others. Wishing you the best in your retirement and next chapter in your life.
Dr. Scott, you have truly blessed my career at Wake Tech. Back in 2002, I began working as an adjunct in the Precurriculum department. I remember the upgrade from being a full time temp to being a full time employee thanks to you. You saw the need to keep instructors on the payroll and not have such a high turnover for faculty that had not been offered that type of contract. I became a real part of my department instead of just a returning adjunct. I have been happily employed here ever since. Thank you so much for all that you have done to really put Wake Tech on the map. We will sincerely miss you and I hope you the best in your future endeavors. 
I have enjoyed working with Dr. Scott since he began here in 2003. I have seen the college grow and prosper under his leadership. I have appreciated his commitment to the nursing program and have heard his "turtle on the fencepost story" about 25 times during our pinning ceremonies! I chuckle with each telling. Thank you Dr. Scott for allowing us to teach our students using simulation. This has been a wonderful way for our students to learn by using their critical thinking and clinical decision making skills. We appreciate the support that the college has given for our purchases of equipment and supplies for the lab. We will miss you. Please know that you have impacted my ability to teach using the latest and greatest technology and I have enjoyed my work on PHSC very much!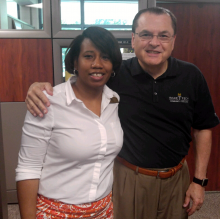 Thank you for your leadership and support. I have enjoyed hearing your inspiring messages at onboarding, graduations, and convocations. Best wishes!
I will miss Dr. Scott's charismatic presentations at our Nursing Pinnings. Some of my fondest memories include his support of the nursing program especially during our quest and attainment of ACEN accreditation, his zeal in trying to introduce the BSN at the community college level, his obvious love of family, and his "every employee and every student has great value" mentality. His legacy of participative leadership will be greatly missed.
Thank you for your leadership and dedication. It has been a pleasure working with you to help Wake Tech - and its students - grow. Enjoy your family, Dr. Scott!! 
First, thank you for your tireless commitment to making Wake Technical Community College a wonderful place to work! Your leadership and guidance have made this institution a better place, and me, a better person. I will miss your heartfelt enthusiasm, your stories during convocation and graduation, and of course, your turtle! Thank you for being a champion of 'your people', and always working to give us the best future possible. On a personal note, when my father passed away from cancer during the summer of 2016, you sent me a letter of condolence that I shared with my mother. My family and I appreciated that letter so very much, and I never had the chance to say thank you. Thank you for being not just a leader, but a man who understands the emotional needs of his employees. We have been blessed to have you for these 15 years. May the journey ahead of you be filled with peace and wonderful memories.
I remember one graduation ceremony where you went off script for a second and told the graduates that you loved them. I was standing at the back, near the last row of seats, and I could hear the guests as they responded to that. There was a second where everyone let out a little gasp of appreciation. We were all there as a group, but you had made it clear, in that moment, that every individual student matters. It was lovely, and I'll never forget it.
Thank you Dr. Scott for your years of dedicated service to the students of Wake Tech. It was a pleasure working with you at the beginning of your tenure here. I wish you every joy and blessing in the years ahead. 
Very best of luck to you, Dr. Scott. I've been at Wake Tech a little over a year. Your presentation during the new employee on-boarding session was my favorite. Listening to your stories of the history of Wake Tech was fascinating, impactful, and wonderfully humorous. It was obvious during that session how loyal you are to this school. Not everyone leaves a footprint in their workplace, but you sure have - in a big way. Enjoy every day of your retirement!
Wake Tech is nothing new in my family. Currently, I am in my second year in my AS and AE degrees. But what would also like to mention that my mom also attended Wake Tech in the early 90s. Look at it now and it is a wonderful place to work and learn. This would not have happened without Dr. Scott leading Wake Tech since 2003. You have continued to support Wake Tech faculty, staff, and students with your expertise and knowledge to make it one of the best community college in the United States. The faculty, staff, and students will miss you Dr. Scott. I hope you all the well in your future endeavors!
Dr. Scott has been an outstanding president. My favorite memory is when I presented Student Applied Benchmarking to him and I called him the Godfather of Applied Benchmarking. He laughed and laughed at that. His laughter should have thrown me off my game, but it actually made the presentation so much better. I also enjoyed the dinners we had together while traveling to conferences. Dr. Scott is so down-to-earth and friendly. He makes me proud to be a part of the Wake Tech family.
I was shocked to find out you are about to retire. Although I have never met you personally, I am a student at Wake Tech and you were a great president and sad to see you leave but I wish you the best in the future, Dr. Scott.