Digital Videography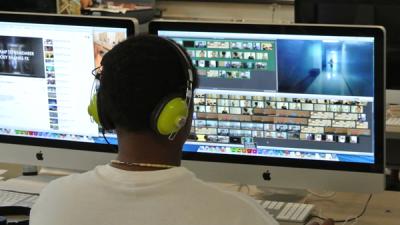 Tailored for teens and pre-teens, this fun class is for any skill level, using any digital video camera or digital stills camera (DSLR, mirrorless, Advanced Point & Shoot) with Shutter Priority (S or Tv) or Manual (M) mode and video capabilities. Students will gain the knowledge of setting proper exposure and frame rates, composition, how to do pedestal, reveal and rack focus shots, and use of a slide. Bring your camera with you to class.
Availability
Campus / Location
Date(s)
Time
Register
---
For questions or more information about this camp, please contact Courtney Boney at 919-334-1612 or [email protected]
Partial Scholarships were Available for this Camp
Scholarships were due by April 8, 2018. 
Recipients will be notified by April 20, 2018 
How to Register
Lunch Is NOT Provided. Campers Must Provide Their Own Lunch.
Camp Cancellation Policy
Wake Tech reserves the right to cancel camp sessions because of insufficient enrollment or instructor availability, in which case a full refund will be given.
Refund Policy
Registrants who cancel 10 calendar days or less before the camp starts will be refunded 75% of the registration fee. "No-shows" are responsible for the registration fee. No refunds will be given after the course begins. To change your registration information or drop out of a camp, submit a written request to the Workforce Continuing Education Registration & Records Office before the camp start date:
Wake Technical Community College
Workforce Continuing Education Registration & Records
9101 Fayetteville Road
Raleigh, North Carolina 27603
For questions or more information about this camp, please contact Courtney Boney 
at 919-334-1612 or [email protected]