Co-Curricular Transcripts
The Co-Curricular Transcript (CCT) allows students to document their education outside the classroom –their involvement in extra-curricular activities while at Wake Tech. 
Students can use the CCT to highlight community engagement, membership in student organizations, leadership activities, and workshops and other educational programs they have completed. The CCT can enhance student resumes and improve marketability for transfer applications or potential employers.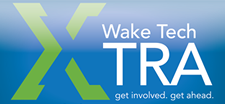 Co-Curricular Transcripts are official documents of Wake Technical Community College, and all entries are validated by Student Development. The CCT is provided to students at no cost. 
Transcript Format
The CCT categorizes information under two headings.
Organization Memberships are activities and groups that students have participated in through OrgSync.
Involvement includes activities that may not be associated with membership in a particular organization.
Please note: Student activities and involvement through Wake Tech XTRA will be listed automatically on the CCT; activities outside of OrgSync can be added to the CCT manually.
Obtaining Co-Curricular Transcripts
Students can access their CCT on Wake Tech XTRA, under the INVOLVEMENT tab.
Unofficial copies may be obtained at any time.
Official copies must be requested and will be available for pickup within five business days of the request. 
For more information, contact
Melody Weast
919-866-5469
Mariel Klem
919-532-5964