Plus-50 Lifelong Learning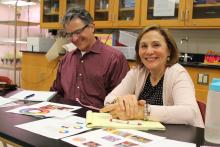 Wake Tech offers courses designed especially for adults age 50 or older that can help you discover a new career, improve your job search skills, plan for retirement or explore personal interests. The Plus-50 program has courses that range from such as yoga to dance to Spanish to scrapbooking.
In addition to courses offered at various Wake Tech campuses and sites, we offer programs at senior centers, community and recreation sites throughout Wake County. If you take a course at a location other than a Wake Tech campus, you must register for the course at that specific location.
Partner sites and senior centers
Become an entrepreneur
You may have dreamed of starting a business or turning hobbies or volunteer work into a money-making operation. Wake Tech's Small Business Center (SBC) and Entrepreneurship Initiatives programs have resources to help get you started. Talk with an SBC advisor in a free, confidential session any time questions arise.
Retired to rehired
Going back into the workforce can be daunting. You may wonder about your tech skills or generation gaps in the workplace – or you may be seeing a challenge you haven't identified yet. Wake Tech's Career Transitions Forum is a great place to start. The unique, weekly series of lectures and networking activities brings professionals together to share ideas and experience in a supportive environment. 
Course details and registration information
Course
Healthy Aging
Name
SEF-7999E
Available Classes
Intended Audience
This course is intended for anyone interested in learning more about healthy aging.
Description
As the U.S. population ages, opportunities abound for working with seniors in various settings that support quality of life. This certificate program presents an overview of the aspects of aging and health in the later years. It helps to build a foundation for the treatment of seniors.
Course Objectives
have understood how increasing scientific, clinical, and social interest helps us understand the relationship between nutrition and aging.
have explored the characteristics of the healthy aging brain, and examine how cognitive function can be maintained into old age.
have explored the role that intimacy and sexuality play in the health of seniors.
Outline of Instruction
Wednesday - Lesson 01


Increasing scientific, clinical, and social interest helps us understand the relationship between nutrition and aging. Eating well is essential in all stages of life but is especially important for maintaining good health and slowing the aging process in older adults: Nutrition influences the risk of contracting acute and chronic diseases and affects the physiological and biological processes of aging. Making healthy food choices also has social impacts, since healthy adults are more productive members of society and utilize fewer resources on multiple levels than unhealthy adults. The goal of this course is to identify the nutrient needs specific to the older adult, describe how age-related changes impact nutritional status, identify nutrition-related diseases common in older adults, describe the impact of food-borne illnesses on the health of aging adults, identify the United States' governmental MyPlate food guidelines, and describe the purpose of the Older Americans Nutrition Program (OANP).
Friday - Lesson 02


The brain is the most complex part of the human body. People once believed that progressive mental decline was inevitable, but now we know that the brain's ability to age well varies from person to person and is affected by genetic predisposition, genes, life experiences, lifestyle, exposure to toxins and chemicals, accidents, trauma, and disease. Cognitive abilities do not automatically decline with age: the majority of older adults are happy; they live an active, optimistic life with many friends; and they engage in leisure-time activities that increase not only their quality of life but also their longevity and the health of their brains. The goal of this course is to identify the components of the brain and their functions; differentiate the current theories of neuroplasticity, neurogenesis, and epigenetics; and discuss the effects of physical activity, nutrition, mental stimulation, socialization, creativity, attitude, spirituality, and meditation on the healthy aging brain.
Wednesday - Lesson 03


Physical activity is essential for healthy aging and well-being. Throughout life, engaging in enjoyable movement, such as walking, dancing, golfing, swimming, and cycling can increase the chances for health and vitality in later years. The goal of this course is to examine the physiological and psychological benefits of physical activity. Various types of physical activity, their health benefits, the factors of an effective exercise program, and the benefits of movement (walking, yoga, and tai chi) are described.
Friday - Lesson 04


Loving and being loved are essential to maintaining a positive, healthy attitude. Quality of life is often related to affection and tenderness shared with loved ones. With a healthy self-esteem and a willingness to communicate with a partner, older adults can enjoy intimate relationships throughout their lives. The goal of this course is to examine the importance of intimacy and sexual needs, describe normal sexual changes in the aging adult, explain the pathological conditions affecting sexuality, and explore lesbian, gay, bisexual, and transgender sexual issues as they relate to getting older.
Wednesday - Lesson 05


Living to be 100 years old was once considered a rare occurrence, but with advancements in medicine and lifestyle changes, living to be 100 is not so improbable today. As a group, there are more centenarians worldwide than ever before, with the largest population found in America. Five places have been identified worldwide where people live the longest, healthiest lives. These "Blue Zones™" where people reach 100 years of age at significantly higher rates include the Barbagia region of Sardinia in Italy, Okinawa in Japan, the Adventists community of Loma Linda in California, the Nicoya Peninsula in Costa Rica, and the island of Ikaria in Greece. The people living in these places have achieved longevity through different paths and different cultures. The goal of this course is to describe the epidemiology and psychosocial dynamics of centenarians, examine genetic factors that contribute to longevity, and discuss the nine lessons learned from the Blue Zones.
Contact Hours
10
CEU's
1
Industry Standard, State, or National Certification
No
CE to CU Articulation
No
Prerequisites
Text and Supplies Needed
Internet access
• Email
• One of the following browsers:
o Mozilla Firefox
o Microsoft Internet Explorer (9.0 or above)
o Google Chrome
o Safari
• Adobe PDF plug-in (a free download obtained at Adobe.com .)
Clinical Site/Special Facilities
Requirements for Successful Completion of this Course
Attendance 80% or above
Participation
• Students must successfully pass 10 quizzes with a minimum grade of 70% by the second quiz attempt.
• If all quizzes are not passed with 70 or better by the second attempt, the final exam score must be 70% or higher on the first attempt for successful completion.
• The Final Exam must be taken by the Wake Tech course end date

Accreditation/Special Approval Requirements
Intended Audience
This course is intended for anyone interested in learning more about healthy aging.
Specific Industry or Business Support Needs
Industry or Job Titles Related to training Outcomes for Employment
Related Courses
Course Contact Information
Non-Credit Online Learning http://ceonline.waketech.edu
919-532-5847