Industry-recognized credential(s): Java Training
Complete in: 6 month or less
For non-credit student support services or to see if you qualify for financial assistance, contact the Career Pathways Program & Student Resources.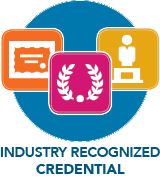 ---
Course Details & Registration Information
 
Java Programming Introduction
SEF-3001EW2
1 available classes
Java is the most popular object-oriented programming language. The code runs on Windows, Linux, and Mac 10.7.3 or higher operating systems. Users with little-to-no programming experience will acquire skills to write simple, portable programs that can run on Windows and Andro...
Career Seeking Skills for the IT Industry
HRD-3004AY2
If you want a job in the IT industry, now is the time! Career Seeking Skills for the IT Industry focuses on resume writing, online applications and interview techniques. Learn targeted job-seeking strategies. Examine the use of keywords and phrases for careers in IT. Review...
Java Data Structures and Algorithms Introduction
SEF-3001LL2
Do you want to write Java code that handles data efficiently? This course introduces algorithmic techniques using example problems and provides Java implementations where appropriate. Participants will use hands-on activities to strengthen foundational knowledge and skills f...
JavaScript Object-Oriented Programming Fundamentals
SEF-3001JM2
JavaScript is a global programming language widely used in open-source and enterprise projects to create website, mobile, server, and desktop applications. This interpreted, scripting language has a large, engaged user-base, which has improved JavaScript's adaptability, cre...
First
|
Previous
| 1
Next
|
Last