Industry-recognized credential(s): AutoCAD beginner certification
Complete in: 6 month or less
For non-credit student support services or to see if you qualify for financial assistance, contact the Career Pathways Program & Student Resources.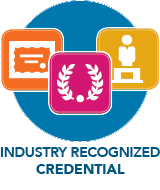 ---
Course Details & Registration Information
AutoCAD 2D Fundamentals
SEF-3001JL2
1 available classes
AutoCAD 2D Fundamentals introduces Computer Aided Design and Drafting concepts and techniques. Using an extensive hands-on approach, users will gain techniques and understand concepts, progressing from making basic shapes to creating multi-view drawings. This course can prep...
Career Seeking Skills for the IT Industry
HRD-3004AY2
2 available classes
If you want a job in the IT industry, now is the time! Career Seeking Skills for the IT Industry focuses on resume writing, online applications and interview techniques. Learn targeted job-seeking strategies. Examine the use of keywords and phrases for careers in IT. Review...
AutoCad 2014 3D Modeling
DFT-3100T2
Learn 3D modeling to expand your skills and prepare you for opportunities in the AutoCAD field, including site development, product design, and dynamic engineering modeling for manufacturing. In this course you will develop 3D drawings from your own designs that can be made...
AutoCAD Fundamentals
SEF-3001JH2
AutoCAD is a popular Computer Aided Drafting program. Architects, project managers, engineers, graphic designers, town planners, and real estate agents are among the professionals who use AutoCAD. This course is aimed at individuals with no AutoCAD experience and will introd...
First
|
Previous
| 1
Next
|
Last