The Wake Tech Small Business Center Celebrates the Success of its Many Clients!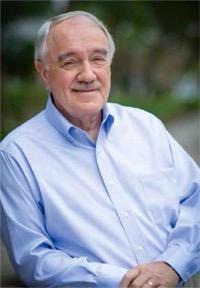 Client Spotlight: Global Skyvizion
Ken Shorsher, co-owner of Global Skyvizion, a company that provides training and commercial license exam preparation for drone users.

Ken Shorsher is a retired airline captain with 35 years of aviation experience and more than 20,000 hours of flight time. When recreational drones became popular in 2015, Ken decided to get involved with the industry. He purchased a drone that summer and then thought, "now what do I do with it?" After giving it much consideration, Ken was inspired to start a business serving the real estate industry with aerial photography designed to market and sell properties. He met with a friend over lunch to determine if this business idea might actually take flight.
The challenges were immediate. Ken had little experience working with real estate professionals, but his friend was a retired real estate broker. Ken had found his wingman and the two began working out a plan of action. Ken needed a license to commercially operate the drone. Surely with all of his experience in the aviation industry, obtaining a drone license should be straightforward. Mayday! Mayday! It would take 9 months to acquire the license. His wings were temporarily clipped. While being grounded Ken and his wingman focused back on the business start-up selecting a name, establishing an LLC, creating business cards, and the like.

At a loss for what to do next, they began attending Small Business Center seminars that fall. It was during a seminar that they learned about the counseling services at Wake Tech. In a mere few days, Ken literally ran into the SBC Director in the lobby. Upon learning about the drone start-up, the Director inquired if there was an interest in teaching. The FAA recently changed the rules for licensing, so it was not as restrictive. Anyone 16 or older could apply for the license by taking and passing the written test. According to Ken, "It was like being thrust into a wind shear! I knew the direction the business must take. I knew that I could play a major role in helping drone enthusiasts prepare for and pass the licensing test." Ken's partner; however, was not onboard with the new direction of the business. After a mediation session, the two decided to dissolve the LLC and fly solo. With the SBC Counselor as a mentor, the business is off to new heights! Global is now a woman-owned business with Ken's wife serving as the President and owner, and Ken serving as the Vice President and Chief Pilot.

"The Small Business Center helped me pivot and transport the business concept from aerial photography to one of UAV instruction and test preparation," indicates Ken. "The SBC connected Global Skyvizion to the instructional supervisors both within and outside of Wake Tech. As a result, Global Skyvizion has taken flight delivering 11 exam prep classes to more than 100 students, with most scoring between 90 - 100 and being awarded a license. Training was also delivered on behalf of the Customized Training Program to meet the needs of a global manufacturing company headquartered in Cary. Wake Technical Community College and Wilson Community College Small Business Centers offered seminars on opportunities to use drones for business.

Ken believes in giving back to the community and has spoken to more than 40 law enforcement officials with the Wake County Sheriff's Office, as well as to the Wake Tech Basic Law Enforcement Training class. In January 2017, Ken was invited to speak to the North Carolina Chapter of Armed Forces Communications' Association at the Iron Mike Center in Fayetteville. There were more than 100 military commanders present.

With the license exam test prep business soaring, a new destination is on the horizon as Ken clears the runway for an online FAA Part 107 test prep course. He is also adding to his repertoire a hands-on class focusing on flying drones responsibly and avoiding accidents. Global Skyvizion looks forward to serving additional educational and public service institutions, which will result in job opportunities, skill enhancement, and small business creation.

Let your imagination take wings and soar above your dreams!