Rapping his Way to Success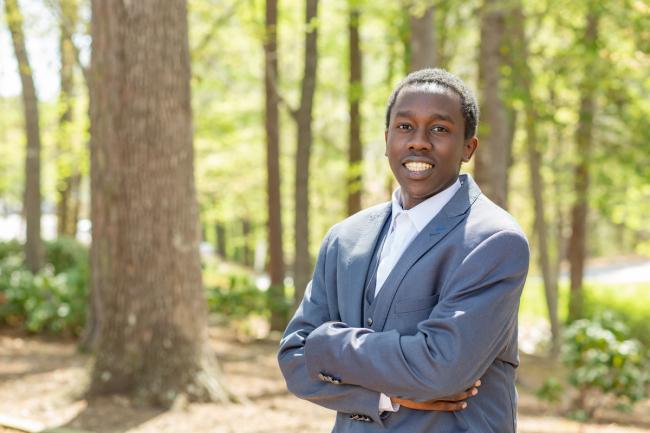 Muinde Bull
Class of 2021
"I write songs based on my life."
— Muinde Bull
Wake Tech was the right school at the right time for Muinde Bull. Muinde is interested in a career in mechanical engineering but also wants to grow and develop as a rap artist. He works hard to manage his varied interests, his education and his commitment of time and energy. Last fall, he served as vice president of SGA. Wake Tech provided all the components he needed to jump-start his higher education and begin to reach his career goals.
Muinde and his family, with deep roots in Kenya, moved to Wake County from Bergen County, New Jersey. The diversity of Wake County made the move easier than anticipated.
"My father's job took our family here," Muinde said. "I was 17 years old, and had to essentially start from scratch." His family found a church and group of elders from Kenya who helped in the transition. The move also meant new schools and teachers, all of whom provided him and his younger brother with encouragement. "In high school, I enjoyed math and science, but found English to be challenging. The social adjustment had its challenges too," he said. Despite the challenges, Muinde came to Wake Tech and found both a quality education and good counsel. "Teachers encouraged me along the way. Not just in education and class work but they helped me learn other skills, like how to prepare a resume."
While working toward his degree, Muinde takes great pride in his growing musical skills as a rapper. With a broad smile, he reached into his pocket, pulled out his phone and shared a recent mix as he explained, "I write songs based on my life. I write about home, success, having the courage to grow. The words come to me and I write them down," he explains. "Then, when I can, I go to a studio in Raleigh to mix the songs."
Muinde's father – who was also involved in a Student Government Association in college – is an inspiration. "My father explained to me the opportunities involved in Student Government. I wanted the chance to be a leader like my father," he says.
Instructors at Wake Tech have encouraged Muinde to continue to reach for success. "They have worked with me for a bright future as I gain skills in mechanical engineering."