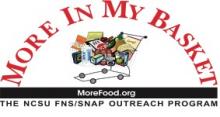 SNAP Workshop - Southern Wake Campus
Date
Mon., April 20th, 2020
Location
Southern Wake Campus
Bldg. A, Room 172
Description
Are you interested in additional resources to secure food?
Supplemental Nutrition Assistance Program (SNAP) is a financial option that may award eligible persons up to $192/month to purchase food.
You're likely eligible if you:
Receive Pell Grants
Participate in Work Study
Work at least 20 hrs/ a week
Have a dependent
Have lower income
If you would like more information, a representative will be on campus (live) to answer questions and help complete an application. 
Host/Sponsor(s)
Student Advocacy & Support